Two Israelis shot dead in West Bank - reports
( 2003-11-18 13:49) (Reuters)
A suspected sniper shot and killed two Israelis on Tuesday near the West Bank city of Bethlehem, Israeli radio stations reported.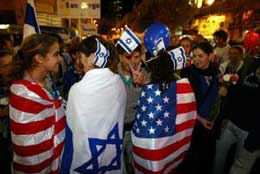 Participants wrapped in US and Israeli flags attend a march by members of the United Jewish Communities, in Jerusalem, Nov. 17, 2003. [AP]

The shootings occurred on a road outside the village of El Khader, not far from the West Bank city of Bethlehem, Israel and Army Radio reported.

Israel Radio said the victims died in hospital after being shot. Soldiers clamped a curfew on El Khader and searched for the attackers, witnesses and reports said.

There was no immediate claim of responsibility. The attack could undermine renewed efforts by the Palestinian government of Prime Minister Ahmed Qurie to negotiate a truce with militant groups.

Yuval Shteinitz, a lawmaker with the ruling Likud Party, said on Israel Radio after the attack "it's very strange we are willing to consider another cease-fire," before the Palestinian Authority disarms militants.

In Rome, Israeli Prime Minister Ariel Sharon said on Monday he hoped to meet his Palestinian counterpart "in the next few days" to resume talks on implementing a U.S-backed peace "road map" that has been derailed by months of violence.

"I think that in the next few days there will be a meeting between the Israeli prime minister and the Palestinian one to resume the dialogue between them," Sharon said on the first of a three-day visit to Italy.