Israel proposes council to fight anti-Semitism
( 2003-11-18 10:04) (Reuters)
Israeli Foreign Minister Silvan Shalom said Monday anti-Semitism was creeping back into Europe and he would propose setting up a joint ministerial council with the European Union to fight it off.
"Unfortunately, recently we...noticed that some signals of anti-Semitism are back in Europe," Shalom told Reuters in an interview before meeting European Union foreign ministers.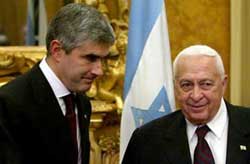 Israel's Prime Minister Ariel Sharon (R) arrives for a meeting with Italian President of Chamber of Deputies Pierferdinando Casini, in Rome November 17, 2003. Sharon flew to Rome to enlist Italy's help in fending off European Union criticism of Israeli policy towards Palestinians and help stem what he calls a rise in anti-Semitism in Europe. [Reuters]

"I would like to ask all of them tonight to form a ministerial council of Europe and Israel that will fight together against this phenomenon of anti-Semitism. I believe that we should do it immediately."

Charges of anti-Semitism were fueled this month when a controversial opinion poll carried out by the EU's executive, the European Commission, found that more Europeans see Israel as a threat to world peace than any other country.

While Shalom met his EU counterparts in Brussels, Israeli Prime Minister Ariel Sharon flew to Rome to enlist the bloc's current president, Italy, in stemming what he calls a rise in European anti-Semitism.

Sharon's spokesman Raanan Gissin described Italian Prime Minister Silvio Berlusconi as "a staunch fighter against anti-Semitism, and therefore I think he will be open to our complaints and also to action that can be taken in Europe to stop this."

Berlusconi met the head of the European Jewish Congress, Cobi Benatoff, in Milan Monday ahead of the prime minister's talks with Sharon.

BERLUSCONI TO RAISE EU AWARENESS

Berlusconi's office said Benatoff had expressed concern about what he said were new forms of anti-Semitism in Europe. The prime minister replied that the Italian EU presidency would work to further raise awareness among its European partners over this (anti-Semitic) phenomenon.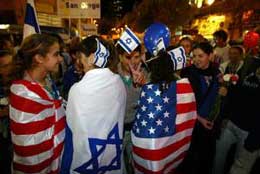 Participants wrapped in US and Israeli flags attend a march by members of the United Jewish Communities, in Jerusalem, Nov. 17, 2003.More than 4,000 U.S. and Canadian Jews are participating in the four-day General Assembly of the United Jewish Communities, an umbrella organization that donates more than US$200m annually to Israel, planning to discuss issues like immigration and anti-Semitism and show support for the country. [AP]

Shalom told Jewish leaders last week that foreign criticism of Israel's "right to use force to defend itself" in its conflict with the Palestinians stemmed from a new type of anti-Semitism that effectively denied Israel's "birthright to exist."

He said Monday that for many years it appeared to Israel that Europe "had a very pro-Palestinian attitude."

"Finally it looks that we have now better relations between the government of the state of Israel and the governments of the members of the EU. And I believe that if we...see that they are more balanced, they will play a key role in the peace process."

Some EU officials are concerned however at what they see as a tendency to stigmatise legitimate criticism of Israel's policies toward the Palestinians as anti-Semitic.

In Paris, President Jacques Chirac chaired urgent top-level ministerial talks on fighting anti-Semitism in France after the firebombing of a Jewish school in a Paris suburb.

Synagogues and Jewish schools have been attacked repeatedly in recent years, violence authorities link to poor Muslim youths enraged by Israel's tough policies against Palestinian unrest.

ATTACK ON A JEW IS AN ATTACK ON FRANCE

"Whoever attacks a Jew in France must understand they are attacking the whole of France," Chirac told reporters after calling the emergency meeting.

His conservative government also announced a $7 billion urban regeneration project targeting the poor ghettos of French cities where racial tensions often spill over into violence.

In Brussels, Shalom said the EU and Israel should work together to educate young people about the history of the persecution of the Jews in Europe during World War II, only a few decades ago.

"All the free world, those countries who share the same values of democracy, of freedom, of rule of law, should fight against this phenomena of racism, anti-Semitism and terrorism," he said. "If we will be united, we will prevail."