Turkey believes net closing in on bombing suspects
( 2003-11-18 09:23) (Reuters)
Police in Istanbul trying to identify suicide car bombers who devastated two Istanbul synagogues suspect two corpses found near the blasts were Islamic militant outlaws, Turkey's Anatolian news agency said on Monday.
Earlier in the day, Turkish authorities said film of one bomber caught on camera an instant before his vehicle exploded was being enhanced for further help in identification.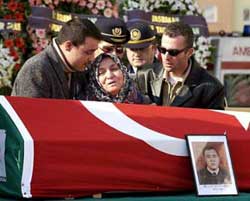 Turkish police officer Bulent Bostanoglu's mother Sidika is comforted by relatives as she cries near her son's coffin, in Istanbul November 16, 2003. Bostanoglu was killed in a suicide car bomb attack at the Bet Israel synagogue in Istanbul on Saturday. [Reuters]

Financial markets from Tokyo to New York dipped after claims that Osama bin Laden's al Qaeda network carried out what Turkey said was an attack masterminded abroad. Turkish shares also ended down, but debt prices and the lira currency held steady.

The London-based Arabic-language newspaper al-Quds al-Arabi said a unit of al Qaeda had claimed responsibility and pledged more strikes against Western states, specifically the United States and its allies Britain, Italy, Australia and Japan.

Anatolian said a 37-year-old critically wounded in Saturday's attacks died on Monday, bringing the death toll to 25 with more than 300 injured.

In Washington President Bush said the Istanbul bombings showed al Qaeda was indiscriminate in its attacks.

"We are seeing the nature of al Qaeda," Bush said. "The bombings in Istanbul, I was told today, may have taken more Muslim lives than any other religion. They just kill. And they're trying to create fear and chaos."

DNA tests were under way on the badly mutilated corpses of the two men found near the bombed synagogues to confirm their identities and even possibly if they were the bombers.

Anatolian said one of the two bodies was thought to be that of a member of a little known group called the Islamic Movement.

The other was believed to be the brother of the detained owner of one of the two vans used in the attacks. He was known to police as a member of the Turkish militant group the Islamic Great Eastern Raiders-Front (IBDA-C), the news agency said.

"This person received military and arms training in a neighboring country," Anatolian said.

IBDA-C surfaced in the mid-1990s with a series of bomb attacks on bars, night clubs and churches in Istanbul. Its leader Salih Izzet Erdis was jailed in 1998.

IMPORTANT CLUES

Speaking after a lengthy cabinet meeting, Prime Minister Tayyip Erdogan hinted at a major breakthrough when he told reporters that pieces of skin believed to belong to the suicide bombers had been recovered and sent for DNA tests.

Interior Minister Abdulkadir Aksu said the attacks were masterminded by a "foreign source."

"There is no organization in Turkey that could have carried this out by itself," he told Vatan newspaper.

Istanbul governor Muammer Guler said investigations into the blasts were advancing and "important clues" had been uncovered.

"Don't worry. Our police will overcome this," Guler said.

Each vehicle in the blasts was packed with 850 pounds of explosives. The bombs, made of ammonium sulphate, nitrate and petrol, all easily available, were mixed in plastic containers and made in Turkey, Aksu said.

Anatolian said the vehicle owner detained by police claimed his vehicle license, van papers and national ID card had been stolen.

The dollar sagged against European currencies on Monday amid geopolitical worries including the Istanbul attacks and violence in Iraq. The mention of Japan in the al Qaeda warning also pulled down the Tokyo stock market and gold rose to near $400 an ounce. U.S. shares dropped.

In Turkey, the lira and debt prices held steady, though shares saw some selling partly because of uncertainty linked to the Istanbul violence.