'Terminator' star Schwarzenegger sworn in as Calif. governor
( 2003-11-18 08:55) (AP)
Arnold Schwarzenegger, who arrived in the United States 35 years ago as a bodybuilder dreaming of fame and fortune, was sworn in Monday as governor of California and said he was ready to take on the "massive weight we must lift off our state."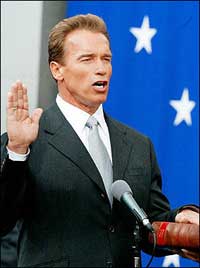 Arnold Schwarzenegger takes the oath of office at his inauguration as governor of the state of California on the steps of the state Capitol in Sacramento. [AFP]

With his wife, Maria Shriver, holding a 192-year-old Kennedy family Bible, Schwarzenegger took the oath of office from California's chief justice on the steps of the state Capitol.

The 56-year-old Hollywood action hero then gave a 12-minute speech in which he invoked Presidents Kennedy and Reagan and called himself, like JFK, "an idealist without illusions."

"Perhaps some think this is fanciful or poetic, but to an immigrant like me ¡ª who, as a boy, saw Soviet tanks rolling through the streets of Austria ¡ª to someone like me who came here with absolutely nothing and gained absolutely everything, it is not fanciful to see this state as a golden dream," Schwarzenegger said in becoming California's 38th governor.

He promised to put the state's finances in order, and added: "I will not rest until California is a competitive, job-creating machine."

Although he had no experience as an elected official, the Republican was swept into office in the Oct. 7 election that ousted Democratic Gov. Gray Davis, reviled by the voters for his handling of the state's sickly economy.

An immigrant from Austria who arrived in the United States at age 21 barely able to speak English, Schwarzenegger is now the leader of the nation's most populous state and the world's sixth-biggest economy.

Schwarzenegger faces a budget deficit that he put at more than $24 billion; a business climate that some economists say is the nation's worst; and a Democrat-dominated Legislature that may not be in a cooperative mood.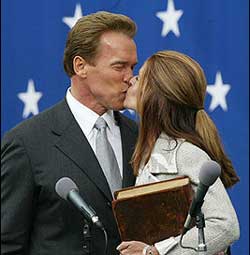 Arnold Schwarzenegger (L) kisses his wife Maria Shriver, holding the bible after taking the oath of office at his inauguration as governor of the state of California in Sacramento. [AFP]

"There's a massive weight we must lift off our state. Alone, I cannot lift it. But together, we can," he said.

He promptly made good on at least one campaign promise: He repealed the tripling of California's car registration tax, which means the state must find an additional $4.2 billion to make up for the lost revenue.

Schwarzenegger said he would also summon the Legislature into special session to address the budget and further reform the workers' compensation system. He has also promised a balanced budget that does not include any new taxes or significant cuts in education and local governments. The session could begin as early as Tuesday.

"I learned something from all those years of training and competing," he said. "What I learned is that we are always stronger than we know. California is like that, too."

As he was sworn in, Schwarzenegger was accompanied by four of the five living former governors of California, including Davis. Only Reagan, who is suffering from Alzheimer's disease, was not present.

The ceremony was devoid of much of the usual inaugural pageantry. Bitterness over the recall vote and the state's financial troubles prompted Schwarzenegger to push for a more low-key ceremony.

Nevertheless, the inauguration had 7,500 invited guests, in addition to several thousand people watching from the street, and drew such celebrities as Dennis Miller, Jamie Lee Curtis, Danny DeVito, Rob Lowe and Vanessa Williams, who sang the national anthem. Hundreds of journalists from around the globe covered the event, some from Japan, France and Schwarzenegger's native Austria.

The recall movement was launched in February by activists angered over the state's budget woes and the prospect of higher taxes. GOP Rep. Darrell Issa bankrolled the effort, spending $1.7 million of his fortune to get the measure on the ballot.

The "Terminator" star cast himself as an outsider and claimed to be beholden to no special interests, even though he, too, accepted large campaign contributions from developers and major business interests.

In the days before the election, the Los Angeles Times published allegations that Schwarzenegger had groped several women over the past 30 years. Schwarzenegger admitted he had "behaved badly sometimes," but with Shriver a fixture at his side, he quickly recovered.

Schwarzenegger won with 48 percent of the vote over a list of 134 other candidates vying to replace Davis, who was bounced by 55 percent of the voters.

The governor of California is paid $175,000 a year, but Schwarzenegger, who has made millions on his action flicks, has not said whether he would accept it. He will have a residence in Sacramento, but his family is not expected to move from Los Angeles.