US says Saddam's deputy behind deadly attacks
( 2003-11-18 08:49) (Reuters)
One of Saddam Hussein's most feared lieutenants is directly involved in attacks on occupying soldiers, the U.S. Army said Monday, a day after a new audio tape purportedly from Saddam vowed more U.S. troops would die.
Brigadier General Mark Kimmitt said American forces were hunting Izzat Ibrahim, No. 6 on a U.S. list of the 55 most-wanted Iraqis, and were "getting closer every day."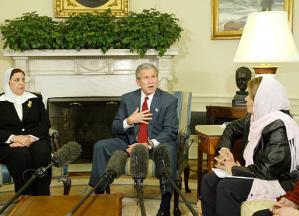 US President Bush meets with Iraqi women leaders, including two members of Iraq's Governing Council, in the Oval Office at the White House in Washington, Nov. 17, 2003. [AP]

"We are getting more intelligence that suggests he was directly implicated in the killing of some coalition soldiers," Kimmitt told a news conference in Baghdad.

Two more American soldiers were killed Monday in separate attacks in Saddam's former powerbase north of Baghdad, a military spokesman said. One was killed and two were wounded in a rocket-propelled grenade attack Monday morning. A few minutes later, a soldier was killed in the same area by a bomb blast.

The attacks brought to 162 the number of U.S. soldiers killed in action since Washington declared major combat over on May 1 -- not including 17 soldiers who died Saturday when two helicopters collided and crashed in the northern city of Mosul.

The U.S. military says the disaster is still being investigated, but soldiers in Mosul and witnesses say the Black Hawks collided after one came under guerrilla fire.

It was the deadliest single incident for U.S. troops since they invaded Iraq in March to topple Saddam.

In Lebanon, a group calling itself Mohammad Army claimed responsibility Monday for the downing of a U.S. Chinook helicopters in Falluja on November 2 in which 16 American soldiers were killed.

ANTI-AIRCRAFT MISSILE

In a videotape broadcast on Lebanon's LBC television station, a hooded man carrying a Koran said the helicopter was shot down by a Soviet-made Strella shoulder-mounted anti-aircraft missile. He claimed the death toll was much higher than announced.

The man, who spoke in Arabic but in an accent that indicated he was not Iraqi, said the movements of helicopters in the area had been monitored for 10 days before the incident.

There was no way of verifying the claim.

Dubai-based Al Arabiya television broadcast an audio tape on Sunday said to be from Saddam. The voice on the tape exhorted Iraqis to drive occupying troops from their country.

"Fighting them...is a legitimate, patriotic and humanitarian duty and the occupiers have no choice but to leave our country...as cursed losers," it said.

It was the first broadcast in two months of a tape purportedly recorded by Saddam. The ousted Iraqi leader has been missing since the war and has a $25 million price on his head.

The U.S. Central Intelligence Agency (CIA) said it was not clear whether the tape was genuine.

"The quality of the recording was poor and after an extensive CIA technical analysis, it is inconclusive as to whether or not it is the voice of Saddam," a spokesman said.

Ibrahim, King of Clubs in a deck of cards issued to U.S. troops to help them identify fugitive Iraqis, is the most senior Iraqi still on the run aside from Saddam himself.

He was considered one of the most ruthless enforcers of Saddam's rule and one of the former Iraqi president's most trusted confidants. His daughter was briefly married to Saddam's elder son Uday -- killed in July along with his brother Qusay when U.S. troops stormed a safehouse in Mosul.

NO. 2 IN COMMAND COUNCIL

Ibrahim was Saddam's number two in the ruling Revolutionary Command Council and held a senior post on a government committee in charge of northern Iraq when chemical weapons were used against the town of Halabja in 1988, killing thousands of Kurds.

Facing mounting losses in Iraq, the U.S. Army is trying new tough tactics, using aerial bombing and satellite-guided missiles for the first time since the end of major combat to target suspected guerrilla hideouts.

Before dawn Monday, U.S. troops unleashed tank and mortar fire at targets in Saddam's hometown of Tikrit.

Soldiers from the 4th Infantry Division fanned out through the town, and the ground shook as shells hit positions which commanders said were used by guerrillas to fire rockets or mortar bombs at the U.S. base in the town.

"For us this is not a display, we want to get the enemy," said 1/22 Battalion commander Lieutenant-Colonel Steve Russell. "The message is: 'Give up, it's over."'

Flares lit up the sky and attack helicopters clattered overhead. In one attack, four M1A1 Abrams tanks perched on top of a desert cliff fired on targets in the fields below.

Sunday, two satellite-guided missiles were fired at suspected guerrilla camps, one near Tikrit and one on an island in a river west of Kirkuk.

U.S. soldiers also mounted a search of the notorious Abu Ghraib area west of Baghdad, looking for insurgents.

Describing his instructions to troops on the raid, Colonel Russ Gold, commander of the 1st Armored Division's 3rd Brigade, said: "Be professional, be polite and be prepared to kill them.."