Miracle's ray of hope hits home
( 2003-11-18 00:48) (China Daily)
Linda Wells, an American mother who has been digging deeply in China to find a "gift of life'' for her adopted child, has finally seen light at the end of the tunnel.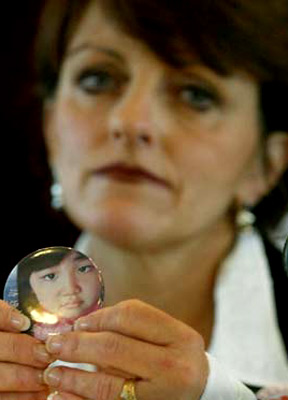 Linda Wells holds a picture of her adopted daughter from China, Kailee Matena Wells.[newsphoto.com.cn]

The ray of hope dawned on Wells at the weekend, as the Tianjin Umbilical Cord Blood Bank in North China said it had identified a perfect serological match for her ailing daughter Kailee, who needs a stem cell transplant to survive.

"We are preparing documents for Kailee's doctors in the United States to decide when the time is appropriate for transplant,'' an excited Wells said yesterday in Beijing.

The 50-year-old lawyer from New Mexico is on her second mission to China in search of a suitable blood cell donor for her six-year-old, who was adopted from Central China's Hunan Province in 1998, and was diagnosed with severe aplastic anemia last year.

The fatal disease prevents a person's bone marrow from generating new blood cells. Doctors said a transplant of stem cells, either from a bone marrow or umbilical cord blood donor, is Kailee's only hope of survival.

As Red Cross societies throughout China had failed to find a 100 per cent match in their ever-expanding bone marrow registry over the past nine months, researchers in Tianjin combed the city's umbilical cord blood bank, finally locating a perfect match on Friday, according to Doctor Yan Fengying.

Yan, deputy chief of the Tianjin establishment, said the bank will send the stem cells as a gift to Wells to help save the life of Kailee.

Wells said: "Finding a match was very unlikely and difficult. The Chinese Red Cross Society, the Tianjin bank and all of the volunteers are a shining example to the world that when we join efforts we can accomplish miracles.''

Kailee's story has once again highlighted the importance of collecting and preserving a newborn's umbilical cord blood, which is usually discarded following delivery, said Professor Qiu Lugui at the Peking Union Medical College.

The blood is a rich source of stem cells, which can be collected, processed and preserved for future use by both the donor and other family members, experts say.

In light of the fact, China began to establish its umbilical cord blood banks in the late 1990s, and so far it has set up 10 such establishments, housing more than 25,000 specimens, according to Qiu.

Compared with bone marrow harvesting, which is an invasive procedure, collecting umbilical cord blood is easier and causes no risk to mother or child. Both bone marrow and umbilical cord blood transplants offer treatment for various forms of anemia, Qiu said.

Qiu said the Tianjin bank is ready to provide a sufficient cell volume for Kailee's transplant.

If transportation of the cells is requested, Qiu said the utmost care should be taken to ensure they are stored in an extremely low temperature and not X-rayed when passing through customs.