Big hairy nannies?
( 2003-11-17 14:34) (ABCNEWS)
Reports Say Rich Couple Will Give Infant to Baby-Sitting Gorillas
Some consider gorillas to be man's closest cousin in the animal kingdom ! but they're not the kind of cousin you might invite over for a night of baby-sitting. That is unless you're rich, famous and count the hairy beasts as some of your closest friends.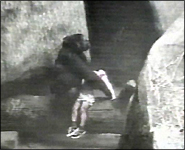 A female gorilla at a Chicago zoo cradled a 3-year-old boy after he fell into the gorilla enclosure back in 1996. [ABCNEWS.com]

An eccentric British multimillionaire and his TV-host girlfriend are reportedly about to hand over their baby to a hairy 200-pound nanny who lives in a cage.

Damien Aspinall ! a rich Londoner who has inherited a chain of zoos from his father ! and his girlfriend, Donna Air, plan to reportedly leave their daughter Freya inside the gorilla enclosure at Howletts Zoo in Kent.

In an interview with London's The Evening Standard, Aspinall said he's not nervous about his plan at all. In fact, he said he's done this sort of thing before.

"It's a ritual," he told The Evening Standard in a Nov. 10 interview. Aspinall says he will probably hand the baby girl over to the dominant female gorilla at the zoo, expecting she will take care of her and introduce her to the other gorillas.

Aspinall's two other daughters, who are 11 and 14, are from his first marriage, which ended in divorce before he met Air.

In the interview, Aspinall revealed that he, too, spent much of his childhood with animals after his family moved out of their apartment ! where they lived with a Himalayan bear, a capuchin monkey, and a leopard ! and into the Howletts Zoo.

"I would wake up in the morning next to a chimp. I would eat my breakfast with the gorillas and then watch the bear and the tiger play on the lawn," he said.

Aspinall, who has made millions on his own through property investments, says the gorillas are his friends and that they've proven to be gentle to children.

One of the most memorable displays of compassion by a gorilla was caught on tape and played on evening newscasts all over the United States.

It came after a 3-year-old boy's fall into the gorilla enclosure at a Chicago zoo in 1996. Panic ensued when the boy fell, but a female gorilla quickly took the boy in her arms and cradled him before delivering him back to the zookeepers.

Aspinall says Air, who has hosted a show on MTV in Britain, is a wonderful mother who is on board with the plan.

Aspinall and Air's documentary, Gorilla, Gorilla, which focused on their release of seven gorillas back into the wild in Gabon, which is located on the edge of the Congo basin, aired on Animal Planet earlier this month.

Howletts Zoo boasts the largest ever colony of lowland gorillas in captivity ! in total 70 animals, with 80 births to date.