US strikes alleged Iraq training base
( 2003-11-17 14:01) (AP)
U.S. troops raided a Baghdad neighborhood Sunday and fired a missile at an alleged training base in northern Iraq, part of a new offensive against guerrillas even as a tape purportedly made by Saddam Hussein urged the rebels to redouble their efforts.
The military moves came as the Army tried to determine why two of its Black Hawk helicopters crashed in the northern city of Mosul on Saturday, killing 17 soldiers in the worst single loss of American life since the war began.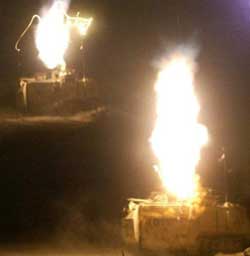 U.S. Army 4th Infantry Division soldiers fire mortars during a night attack on alleged loyalists of Saddam Hussein, outside Tikrit, Iraq,193 km (120 miles) north of Baghdad, Nov. 17, 2003. A new audiotape purportedly made by Hussein urged Iraqis to escalate their fight against the occuption, as a new U.S. military offensive against guerillas began an effort to take the fight to the enemy rather than responding to ambushes. [AP]

On Sunday, the military fired a satellite-guided missile with a 500-pound warhead from Taji, north of Baghdad, and hit a suspected training base west of Kirkuk, about 130 miles away, said Lt. Col. William MacDonald, spokesman of the 4th Infantry Division.

MacDonald said it was the first time such missiles have been used since the end of major combat on May 1.

In Baghdad, U.S. troops backed by armored vehicles and helicopters moved into the Sunni Muslim neighborhood of Azamiyah, sealing off a 20-block area and searching 450 houses over seven hours. They netted 30 Kalashnikovs, about a dozen shotguns and 10 pistols, according to U.S. officers.

Soldiers detained 21 people for illegal weapons possession, although all were expected to be released Monday.

The raids in Azamiyah, an upper-class neighborhood, angered many residents.

"Of course everybody has weapons. We have all been robbed. We were afraid of the Iraqis and now we're afraid of the Americans," said Samir al-Hadith, an engineer from Saudi Arabia.

In Tikrit, troops shelled positions used to fire mortars and a rocket at American forces earlier in the day, Lt. Col Steve Russell said.

Meanwhile, the alleged Saddam tape urged Iraqis to escalate attacks against the occupation and "agents brought by foreign armies" ¡ª an apparent reference to Iraqis supporting the coalition.

The speaker on the tape, aired on Al-Arabiya television, said the only way to end the chaos in Iraq was for Saddam and his now-outlawed Baath Party to return to power.

The CIA said it would review the tape for its authenticity. But U.S. President Bush dismissed the recording.

"I suspect it's the same old stuff. It's propaganda. We're not leaving until the job is done, pure and simple," Bush said. "I'm sure he'd like to see us leave, if in fact it's his voice. I know the elements of the Baathist party, those who used to torture, maim and kill in order to stay in power would like to see us leave."

The voice in the recording resembled Saddam's, but was huskier and the speaker seemed tired.

"The evil ones now find themselves in crisis and this is God's will for them," he said.

The only solution for Iraq, the speaker said, was for "the zealous Iraqi sons, who ran its affairs and brought it out of backwardness ... to return ... to run its affairs anew," he said, referring to the Baath leadership.

The speaker also lashed out at Iraqis who cooperate with the U.S. military, calling them "stray dogs that walk alongside the caravan."

The last purported tape from Saddam was aired on Arab television Sept. 17. The CIA has been unable to authenticate that recording, saying the audio quality is too poor.

The top U.S. administrator in Iraq, L. Paul Bremer, said Saddam likely made some arrangements for a guerrilla war against the Americans before his regime fell in April.

"I think there are some indications that he had prepared for a low-intensity conflict, terrorist war, the kind we're seeing now, beforehand," Bremer said on "Fox News Sunday."

In northern Iraq, the U.S. military was investigating whether ground fire from guerrillas caused Saturday's collision of the two U.S. helicopters.

"There are reports that there may have been ground fire, and one of them may have been trying to avoid that. We just don't know at this point," Bremer said.

All the victims were from the 101st Airborne Division, which is based in Fort Campbell, Ky., a military spokesman said. Division spokesman Maj. Trey Cate said one helicopter carried a quick response team that was on its way to investigate a shooting incident in which a U.S. soldier was injured. The other helicopter was on a transport mission.

An Iraqi policeman in Mosul said at least one of the Black Hawks was hit by ground fire.

"They hit it with a missile," said policeman Saddam Abdel Sattar. "I was in the army. I know these things."

Another witness said he heard gunfire on the ground before the crash.

"The Black Hawks were in the air and there was shooting. It was dark and one slammed into the other," said an Iraqi Civil Defense Corps soldier who identified himself only as Mahmoud.

Before the Saturday crash, the U.S. military's deadliest single incident since the Iraq war began March 20 was the downing of a Chinook helicopter near Fallujah on Nov. 2 that killed 16 soldiers. A Black Hawk was also shot down on Nov. 7 in Tikrit, killing all six soldiers on board.

In other violence, a roadside bomb detonated under an Army convoy in Mosul, wounding five U.S. soldiers. The military also said four Iraqi insurgents were killed late Saturday in two separate clashes with U.S. troops in Diyala province.

Defense Secretary Donald H. Rumsfeld cautioned on Sunday that the Bush administration plan to establish a provisional Iraqi government by June, ending the American occupation, does not mean not mean U.S. troops will withdraw soon. The issue of troops is "on a separate track" from the political timetable, he said.

French Foreign Minister Dominique de Villepin said the U.S. plan moves too slowly, and he urged occupation forces to have a provisional government in place by the end of 2003.

On the streets of Iraq, there were mixed feelings about the plan.

"I would hope the Americans would leave even before June. We prefer they leave as soon as possible since their staying here causes all the problems," said Hussein Abaid, 52.

But Essai Khallaf Jabar, 48, disagreed.

"It's hard to satisfy all the desires of Iraqi people. Finding a leader is not going to be easy," he said. "I still wish the Americans would stay longer, four or five years, to take care of security."