Investigation team to probe coal mine blast in Jiangxi
( 2003-11-17 10:06) (Xinhua)
An independent fact-finding team Sunday to look into a deadly coal mine explosion that killed 49 miners and injured seven others Friday in Jiangxi Province.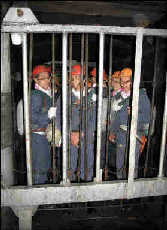 Sources with the team said the group had held their first meeting in the province's Jianxin Coal Mine, where the tragedy occurred, and they would carry on further investigation in two or three days.
They said it would take about two or three months to finish thefinal report on the real cause of the accident, and the report would be submitted to the State Council.
The investigation team consists of Liang Jiakun, deputy director of State Administration of Coal Mine Safety Supervision, and Ling Chengxing, vice governor of Jiangxi Province and other officials and work safety experts from the All-China Federation ofTrade Unions, Ministry of Supervision and the province.
Rescue and clean-up at the scene concluded Sunday as all the bodies of the 49 miners had been sent up to ground.
The blast occurred at the large state-owned mine at 11:45 a.m. Friday, killing 49 miners and injuring seven others, of whom two were hurt seriously.
The coal mine with an annual production capacity of 600,000 tons has been ordered to stop production while Jiangxi provincial government issued an emergent notice Saturday demanding the prevention of major accidents involving heavy losses in the province, especially in coal mines, fireworks factories, public venues and transport.