Purported Saddam tape urges Iraqis to fight US
( 2003-11-17 08:53) (Reuters)
An Arab television network broadcast a purported audio tape by fugitive dictator Saddam Hussein on Sunday exhorting Iraqis to wage holy war against occupying forces and warning of more deaths for U.S.-led troops.
In the northern city of Mosul, U.S. soldiers retrieved wreckage and bodies after two Black Hawk helicopters collided and crashed under fire on Saturday, killing 17 soldiers in the bloodiest single incident for U.S. forces since they invaded Iraq.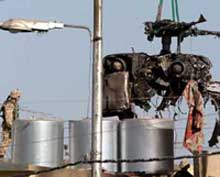 US soldiers clear wreckage from a destroyed Black Hawk helicopter in Mosul, Nov. 16, 2003. Soldiers retrieved bodies and wreckage from two Black Hawks which came down under fire yesterday, killing at least 17 soldiers. The heaviest U.S. loss of life in a single incident since the invasion of Iraq in March came just hours after Washington set the country on a swifter passage to self-rule in a bid to calm Iraqi anger at occupation. [Reuters]

Another five U.S. soldiers were wounded in Mosul on Sunday when a roadside bomb was detonated as their convoy passed.

"An improvised explosive device went off and there was small arms fire," said Specialist Joshua Hutcheson, spokesman for the 101st Airborne Division. "Our soldiers responded but we had five wounded in action."

Facing a mounting casualty toll in Iraq, Washington has moved to speed the transfer of sovereignty to Iraqis in the hope of pacifying resentment toward the occupation, and the U.S. Army has adopted new tougher targets to strike back at guerrillas.

The U.S. military fired a satellite-guided missile on Sunday for the first time since major combat was declared over on May 1, targeting an island in a river in northern Iraq where U.S. officers said guerrillas had set up a training camp.

The purported Saddam tape, broadcast by Dubai-based Al Arabiya television, urged Iraqis to drive out occupying troops.

"Fighting them...is a legitimate, patriotic and humanitarian duty and the occupiers have no choice but to leave our country...as cursed losers," it said.

It was the first time in two months that a tape purportedly recorded by Saddam has been broadcast. The ousted Iraqi leader is still missing with a $25 million price on his head.

BUSH DISMISSES TAPE

U.S. President Bush dismissed the tape.

"I haven't seen the specifics," he told reporters in Washington. "I suspect it is the same old stuff. You know, it's propaganda, and we're not leaving until the job is done."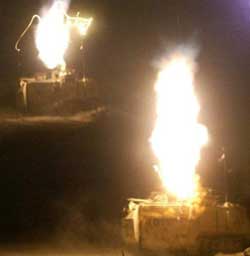 U.S. Army 4th Infantry Division soldiers fire mortars during a night attack on alleged loyalists of Saddam Hussein, outside Tikrit, Iraq,193 km (120 miles) north of Baghdad, Monday, Nov. 17, 2003. [AP]

A CIA spokesman said the agency was aware of the tape and would examine it to determine its authenticity.

The U.S. Army said it was still investigating what caused the Black Hawks to collide. Soldiers in Mosul and witnesses said one of the helicopters was hit by a rocket-propelled grenade and then collided with another Black Hawk flying nearby.

"We are moving bodies and debris from the scene now," Major Trey Cate of the 101st Airborne Division told reporters near the crash site. He said 17 soldiers were killed and five wounded.

One Black Hawk slammed into the roof of a house in Mosul's Bab Sinjar neighborhood. The second hit a school building. Somehow, neither appeared to have inflicted civilian casualties in the crowded residential area near the city center.

Fawwaz Saleh, a 36-year-old lawyer who lives two doors away from the house hit by one of the helicopters, said gunfire had been heard in the area before the Black Hawks moved in. One hovered overhead and then there was a loud blast and a crash, terrifying people in nearby houses.

"I saw rotor blades sticking through the roof," he said. "We saw one of the pilots pulling a soldier from the cockpit."

Earlier this month, a Chinook helicopter was shot down west of Baghdad, killing 16 soldiers, and a Black Hawk was downed by guerrillas in Tikrit, killing all six people aboard.

U.S. STEPS UP RAIDS

U.S. soldiers across Iraq have stepped up raids this month and have resumed using weapons of war, including 500-pound bombs, mortars and missiles. Sunday marked the first time in months a satellite-guided missile was used in Iraq.

Several blasts echoed across Baghdad after dark on Sunday. Iraqi security officials said they were probably caused by guerrillas firing rockets or mortars but there were no reports of casualties.

Along with the new military tactics, Washington has adopted a changed political strategy which allows sovereignty to be transferred to Iraqis even before a new constitution has been drafted and democratic elections held.

The U.S.-appointed Iraqi Governing Council announced on Saturday that the occupation would formally cease at the end of June 2004, when a transitional Iraqi government will take over.

But asked if Iraqis could expel U.S. forces once authority is turned over to them, Iraq's U.S. governor Paul Bremer said: "No...there will be a side agreement dealing with our mutual security interests, which we will also negotiate between now and the end of June."

Speaking to ABC television, he said: "I'm sure the Iraqi government is going to want to continue to have coalition forces here for its own security for some time to come."

Many Iraqis were skeptical anything would change in Iraq, even after sovereignty was transferred. "Everything is in the hands of the occupation forces and the Iraqi people refuse all kinds of occupation," said taxi driver Mohammed Karim, 32.