Nicole Kidman snags career achievement award
( 2003-11-16 17:20) (Agencies)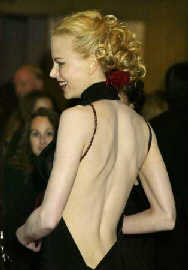 Actress Nicole Kidman poses at the American Cinematheque Tribute to Nicole Kidman November 14, 2003 in Beverly Hills. Kidman received the 2003 American Cinematheque Award for her contributions to cinema. The tribute will be telecast on the AMC cable network December 1 in the United States. [Reuters]

Nicole Kidman has a jump start on the upcoming awards season.

The Oscar-winner and star of the new dramas "The Human Stain," "Cold Mountain" and "Dogville" collected the 18th annual American Cinematheque award Friday night for career achievement.

Acting "was what I wanted to do since I was a very strange little girl in Sydney, Australia," Kidman told a star-studded gathering at the Beverly Hilton Hotel that included actors James Caan, Adrien Brody, Lauren Bacall and Kidman's childhood friend Naomi Watts.

"I even had my first kiss on stage," she added.

The 36-year-old actress, who won an Oscar last year for playing novelist Virginia Woolf in "The Hours," may seem a little young to receive a career achievement honor, but previous winners were also on the youthful side.

Eddie Murphy was the first winner -- in 1986, when he was just 25. Other recipients include directors Steven Spielberg and Martin Scorsese, and actors Mel Gibson, Gov.-elect Arnold Schwarzenegger, and last year's honoree, Denzel Washington.

Friday night's program, taped for broadcast December 1 on the AMC cable channel, featured clips of Kidman's various films, including two sexually charged clips with ex-husband Tom Cruise in the films "Far and Away" and "Eyes Wide Shut."

Cruise did not attend the ceremony. Kidman's current boyfriend, singer Lenny Kravitz, was also not in evidence.