Italians wounded in Iraq make tearful homecoming
( 2003-11-15 10:22) (Agencies)
Wounded survivors of Italy's worst military slaughter since World War II returned home from Iraq on Friday as the country prepared to hold a state funeral next week for the 16 soldiers and two civilians who died.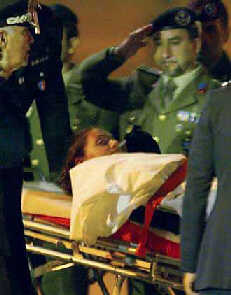 Injured Italian Carabiniere Marilena Iacobini is helped into an ambulance as she arrives at Rome's Ciampino Airport November 14, 2003. [Reuters]

Priests and doctors were the first to board the huge C-130 military transport plane when it arrived, offering medical and spiritual comfort.

Ambulances took the roughly 20 wounded, some with head bandages and arm casts and on stretchers, to a military hospital in central Rome in a police motorcade.

Some of the wounded, which included a 29-year-old woman, managed weak waves through ambulance windows.

A few family members had tearful reunions on the tarmac but most embraced their loved ones at the hospital.

"Our wounded soldiers are overwhelmingly sad about their comrades who died, this is their greatest sorrow," Italian army General Goemo Toni told reporters at the hospital.

"They are happy to be alive but they have all shown a desire to return to Iraq as soon as possible because they are sure this is their duty."

Most of the wounded were either Carabinieri military police or army troops. One was an Italian civilian doctor.

The devastating suicide bomb attack in the southern Iraqi city of Nassiriya on Wednesday, which also killed nine Iraqis, was Italy's highest military death toll in a single incident since World War II.

"We'll be back, boys," one of the wounded soldiers, a big white bandage round his head, said on Italian television as he and his comrades boarded the plane in Iraq.

PRAYERS IN PARLIAMENT

Earlier on Friday, parliamentarians of all political stripes attended a mass in the chapel of the lower house of parliament to remember the dead and pray for the recovery of the wounded.

The bombing at the Carabinieri military police base has traumatized the nation, which is preparing for one of the biggest state funerals of modern times.

The coffins of the 18 dead were expected back in Italy on Saturday and will lie in state inside the Vittorio Emanuele monument, a huge white marble memorial that dominates central Rome and holds the tomb of the unknown soldier.

The government has proclaimed a national day of mourning on Tuesday, when the funeral will take place in St Paul's Basilica, one of Rome's largest churches.

President Carlo Azeglio Ciampi is cutting short an official trip to Washington by one day to return for the funeral.

A minute of silence will be observed across Italy when the funeral starts and that night the Colosseum, usually illuminated by floodlights, will go dark.

Thousands of spontaneous tributes of flowers, children's drawings and messages were laid at police stations across the country, and hundreds of people queued to sign a book of condolences at the Carabinieri national headquarters in Rome.