Indian warship fleet winds up visit
( 2003-11-14 22:32) (China Daily)
A three-vessel Indian warship fleet left Shanghai on Friday at the end of a five-day official visit to Shanghai.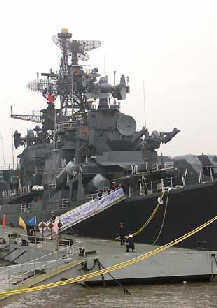 Chinese naval officers visit Indian naval destroyer INS Ranjit, in Shanghai, November 11, 2003. Three Indian warships arrived at China's financial hub for a five-day official visit and will take part in a joint naval exercise by China and India, in the East China Sea on November 12. [newsphoto.com.cn]

The fleet, commanded by Rear Admiral R. P. Suthan, flag officer commanding the Eastern Fleet of India, took part in their first joint naval exercise with China in the field of non-conventional security -- a search and rescue option off the coast of Shanghai.

India contributed the guided missile destroyer INS Ranjit, the guided missile corvette INS Kulish and the replenishment tanker INS Jyoti to the naval drills.

This was the fourth time that Indian warships called on Shanghai.

During their visit, Suthan and his officers met with Commander of China's East Sea Fleet Zhao Guojun and Vice-Mayor Feng Guoqin of Shanghai. They were given a reception by the Shanghai Naval Base.

The navy officers and soldiers of the two countries also visited each other's warships and held sports competitions.

During the joint exercise code-named "dolphin 0311,'' a Chinese replenishment tanker acted as a merchant ship that caught fire and was rescued by a Chinese-guided missile corvette and the Indian warships. The two navies carried out a surface and an airborne search by helicopter, putting out the fire and immediately transferring `injured' personnel.

The exercise was a total success, according to Chinese naval officers.

Before the joint exercise, the Chinese and Indian navies also conducted maritime communication and manoeuvres in formation, testing light signals, flag signals and high-frequency wireless communication, and rearranging formations at sea.