China, Japan handle 724 chemical bombs
( 2003-11-14 21:15) (Xinhua)
Chinese and Japanese experts were working smoothly together in Qiqihar City, northeast China's Heilongjiang Province, to seal off and destroy chemical weapons stored in a warehouse in the city, a senior Chinese military officer said Friday.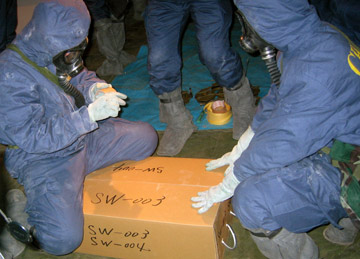 A total of 724 chemical bombs will be handled, including 143 found in Qiqihar, 24 in Daqing City, 217 in Heihe City, 340 in Bei 'an City, and barrels of mustard gas found on Aug. 4 in the province, said Ma Yinde, a Chinese weapon expert.
When they surrendered and returned home at the end of World War Two, Japanese intruding troops left countless chemical weapons in northeast China.
Some of the abandoned chemical weapons were found recently in the city and other places in northeast China and caused injuries, or even death.
A fatal toxic gas leakage from abandoned Japanese chemical weapons killed one person and injured 42 others after barrels of mustard gas were dug up at a construction site in Qiqihar in early August.
Although the weapons were sealed off in a warehouse, they were in danger of leakage because of eroded containers.
The work has progressed well so far despite cold weather in northeast China, Ma said.
Ma said Chinese and Japanese experts worked in a orderly way, except the Japanese side argued about if 45 chemical bombs in store were left by intruding Japanese troops.
They have strengthened safety and protective measures to prevent workers involved from hurt and the environment from contamination, Ma said.