Guinness book celebrates its own record
( 2003-11-14 14:55) (Reuters)
The Guinness Book of World Records celebrated the release of its 100 millionth copy Tuesday at London's Tate Modern Gallery, marking its own record as the best-selling copyright book of all time.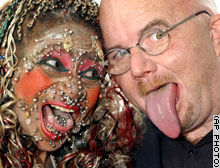 The world's most pierced woman and the man with the world's longest tongue pose in London on Tuesday.

"Everybody has a dream to be the best at something in the world and the public has an incredible imagination," the book's editor Claire Folkard said at the reception. "That's what has kept us going."

One guest who achieved her goal to be entered into the book as a record holder was Elaine Davidson who had 1,903 piercings, studs and rings over her tattooed body.

The Brazilian said she did all the work herself and had once pierced herself 85 times around her waistline in just two hours. "Now, my dream has come true," she said. "Piercing is my stress relief."

Britain's tallest man was another eye-catching record-holder, towering over reception guests, drinking champagne and eyeing some tiny Peking Duck spring rolls.

"I wish to remain anonymous," he said when asked his name.

At 7 ft 6.25 inches, 59-year-old Charles Greener was listed in the Guinness book in 1969 but is still slightly shorter than the world's tallest woman.

"I used to do book accounts, though not high finance," Greener chortled.

Paul Hunn, 34, produced the loudest burp in the world on television in 2000 and is keen on retaining his record.

"I started burping in the school yard and continued in the pub -- it seemed a natural progression," he said.