Italy in mourning for its '9/11'
( 2003-11-14 14:45) (CNN.com)
Italy was mourning the 18 countrymen killed in a suicide bombing in Iraq that leaders were comparing to the U.S.' September 11.
With flags at half-staff at a Rome unknown soldier monument, a man reads a newspaper report of the attack.

Italy's flag flew at half-staff across the country, and flowers were placed at the headquarters of the Carabinieri paramilitary police after Wednesday's attack in Nasiriya.

The national soccer team wore black armbands during a match in Poland, and lawmakers held a minute of silence in parliament.

Sixteen military police officers were among the dead, making it the worst single loss of life for Italy's military since World War II -- surpassing the day in 1961 when 13 Italian aviators were killed in Africa.

Nine Iraqis also died in the Nasiriya blast, including a boy who had worked one day as a sweeper at the military police headquarters.

Politics took a temporary back seat to grieving, as opponents largely respected Prime Minister Silvio Berlusconi's call for unity in the wake of the bombing.

But political storm clouds were gathering, as opponents promised a full debate, and a fresh poll showed Italians divided as ever over their presence in Iraq.

The headline in Rome's Il Messaggero newspaper read: "Italy pierced in its heart."

The killings have shocked a nation that believed its soldiers and police were in a non-combat role acting as peacekeepers in southern Iraq.

"Until yesterday, it was almost a law of physics and nature that Italian soldiers were lucky and good," said an editorial in Milan's Il Giornale newspaper entitled "The Illusion is Over."

"Yesterday's message was loud and clear ...We are no longer the darlings of the Arab world," it added.

From churches to the corridors of power, from coffee bars to piazzas, the wake-up call resounded as the nation prepared to receive bodies in coffins.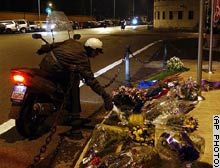 A man on a moped leaves flowers outside the Carabinieri headquarters in Rome.

"The illusion of a moderate, humanitarian presence aimed at solidarity (with Iraqi people) was ended by the mangled bodies ... of poor soldiers who died just a few day before they were due to come home," the Corriere della Sera newspaper of Milan said.

Calls flooded in to Carabinieri stations and were broadcast on state-run television.

A woman began her message with a firm voice. "I wanted to call only to express my condolences to all of you" -- she began to cry -- "and to thank you for what you have done. May God bless you."

Letizia Ludovisi, a 62-year-old from Rome, said: "The Italians are there to help the Iraqis, to care for them, to feed them, to give them work," she said. "It's broken our hearts."

Deputy Prime Minister Gianfranco Fini called November 12 "our September 11."

And Defense Minister Antonio Martino, touring the devastation in Nasiriya, said the same terrorists responsible for the September 11 attacks were behind Wednesday's bombing.

A large section of the Italian population opposed the war, protesting their government's support of the U.S.-led military campaign against Iraq's ex-president Saddam Hussein.

A poll conducted after the attack showed Italians evenly split over whether their country and the other coalition members should leave Iraq, with 44 percent saying "yes" and 44 percent saying "no".

Some opposition members have demanded Italy's 2,300 troops be withdrawn. But Italy's Cabinet Thursday reaffirmed the troops would remain.

Marco Niada, the UK correspondent for the Italian national daily Il Sole 24 Ore, said other countries must come in and help Italy.

"Italians are saying, 'We are doing our part. We are not part of the conflict. Other countries should do the same. We cannot walk away, others must come,'" Niada said.

The victims are to be flown to Italy later on Thursday, or Friday, in a C-130 transport plane, an Italian military spokesman said.