CIA rejects claim it sought Osama deal before 9/11
( 2003-11-14 11:47) (Reuters)
The CIA rejected as fantasy claims in a new book that it tried to negotiate a non-aggression pact with Osama bin Laden just two months before the September 11, 2001 airliner attacks against the United States.
Richard Labeviere, author of "The Corridors of Terror," released on Thursday, says the CIA's Dubai station chief approached bin Laden while the al Qaeda leader was being treated for a serious kidney complaint in the United Arab Emirates.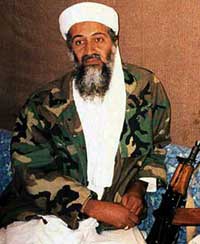 Bin Laden is seen at an undisclosed location in this file photo released November 10, 2001. [Reuters]

He said the meeting took place in the American Hospital in Dubai on July 12, barely eight weeks before al Qaeda militants slammed fuel-laden hijacked airliners into the Pentagon and New York's World Trade Center, killing almost 3,000 people. "Such an allegation is sheer fantasy, no such thing occurred," CIA spokesman Mark Mansfield said, echoing an earlier rebuttal by the U.S. Central Intelligence Agency of French media reports in October 2001 about the alleged Dubai meeting.

Labeviere said he learned of an encounter from a contact in the Dubai hospital, and said the event was confirmed in detail during a separate interview in New York with a Gulf prince who presented himself as an adviser to the Emir of Bahrain.

The prince, who the author met in a Manhattan hotel in November 2001, appeared very well-informed about the CIA-bin Laden meeting.

Labeviere said the second contact told him the face-to-face had been arranged by Prince Turki al-Faisal, the head of the Saudi General Intelligence Department.

He quoted the second contact as saying:

"By organizing this meeting...Turki thought he could start direct negotiations between the Saudi millionaire (bin Laden) and the CIA on one fundamental point: that bin Laden and his supporters end their hostilities against American interests."

In exchange, the CIA and the Saudi (intelligence) services undertook to allow bin Laden to return to his native country, even though he was stripped of his Saudi nationality in July 1994. The Dubai meeting was a failure, Labeviere said.

The Saudi intelligence chief was sacked in the wake of the September 11 attacks.

Labeviere named Larry Mitchell as the CIA station chief who met bin Laden, describing him as a colorful figure well-known on the Dubai social circuit.

Mitchell left the Gulf state on July 15, 2001 and Labeviere said CIA headquarters in Langley, Virginia, had told him the operative was unavailable for interview because he was on his honeymoon.

At the time, bin Laden had a multi-million dollar price on his head for his suspected role in the 1998 bombings of two U.S. embassies in East Africa that killed 224 people.

Bin Laden was treated between July 4 and July 14 in the urology department of a kidney specialist at the American Hospital, Labeviere said, adding that the hospital denied this.