Jackie Chan in accident on-set
( 2003-11-14 10:16) (CRI)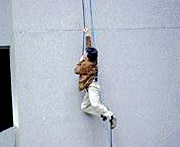 Hong Kong Kung-fu star Jackie Chan has reportedly had an accident during the shooting of his latest movie "New Police Story". Fortunately the action hero wasn't seriously injured.
It is said the star fell from a building while dangling from a sling while filming a stunt in Hong Kong. He landed on a platform without serious injury.
This is not the first accident the 49-year-old has had on-set, possibly because he always does the stunts in his films himself.
The star says this "New Police Story" is not the sequel to his famous "Police Story" series. The new good-cop bad-cop crime flick features plenty of gun fights, car chases and explosions.