Quake kills child, 25 people hurt
( 2003-11-14 07:57) (China Daily)
One child has been confirmed dead while 25 other people were injured in an earthquake early Thursday in Northwest China's Gansu Province.
A child less than 10 years old succumbed to injuries suffered when the temblor hit. An elderly person who was also badly hurt is still in a critical condition.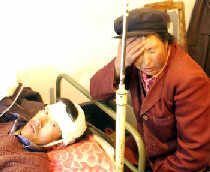 Zhang Aiqiao (R), 20, weeps beside her husband who was wounded as their house collapsed during an earthquake early Thursday in Minxian County, Gansu province. At least a child was killed and 25 other villagers were wounded in the earthquake.[newsphoto.com.cn]

About 97 per cent of houses were damaged and 20 per cent collapsed in the worst hit villages in Minxian County about 2,200 metres up in the mountains. The quake also rendered 25 kilometres of roads impassable, said Qi Xuefeng, a deputy county chief.

The earthquake, which measured 5.2 on the Richter scale, hit the area between Minxian, Lintan and Jone counties in Gansu yesterday morning. The epicenter was 34.7 degrees north latitude, 103.9 degrees east longitude, 150 kilometres south of Gansu's capital Lanzhou.

Minxian County has a population of 440,000, Lintan County 150,000, and Jone County 100,000.

According to the State Seismological Bureau in Beijing, a joint work team has been sent to the quake-hit area by the bureau and local seismological department to investigate the damage.

More than 10 homes were destroyed and many walls developed cracks, local government sources said.

Relief materials, including tents offered by local civil departments, have arrived at the disaster area.

Water and electric supplies are still working normally, sources said.

On top of the earthquake, however, victims will have to deal with increasingly colder weather.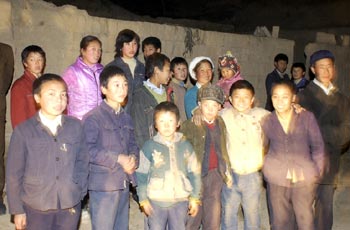 Villagers in Mingquan village, Minxian County of Gansu Province, gather outside their homes after an earthquake hit the area Thursday. Around 3,000 houses in the county were damaged by the earthquake and became too dangerous to live in. Relief materials have arrived at most of the disaster area while some remote villages in the mountains are still to be reached. [newsphoto.com.cn]

According to the province's meteorological observatory, temperatures at the site yesterday dipped to -2 C. In addition, a cold air front will hit most of the province next Monday or Tuesday with the mercury plummeting by as much as 5 to 6 C, the observatory said.

On top of that, the State Seismological Bureau also warned that slight after-shocks might occur in the following days.

This is not the first earthquake in the province this year. Last month two quakes which registered 5.8 and 6.1 on the Richter scale rumbled through Minle and Shandan counties in Gansu, left nine people dead and more than 43 others injured.