Imelda Marcos makes tearful return, faces arrest
( 2003-11-13 17:04) (Reuters)
Tearful, lame, but unbowed, Imelda Marcos said Thursday that she loved her country and would never run away, as government lawyers tried to have the former first lady arrested for returning late from a foreign trip.
Marcos flew back to the Philippines from London on Wednesday, overshooting by 10 days a deadline set by a graft court that is trying her on corruption charges related to late dictator Ferdinand Marcos's two-decade rule.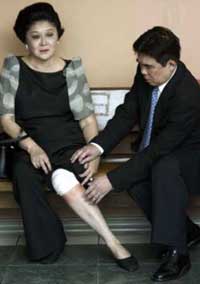 Former Philippine first lady Imelda Marcos (L), with the help of her private doctor Roberto Anastacio, shows her bandaged swollen left knee after she appeared in an anti-graft court in Manila Nov. 13, 2003. [Reuters]

The court had granted her a 30-day travel permit to visit the United States and Europe on medical and religious grounds, but some newspapers reported she had been spotted in Italy quaffing wine in restaurants and shopping for luxury goods.

Marcos, whose powers of persuasion are as legendary as her enormous shoe collection, said the last leg of her trip in Britain had been necessary because eye experts treating her are based there.

"This has been the most harassed and stressful trip of my life," she told reporters after limping out of court.

"They have taken everything from the Marcoses," she said. "They want conviction for life imprisonment, now they want conviction for my eyesight."

The 74-year-old Marcos cried throughout her talk to reporters after the 50-minute hearing, once lifting up a trouser leg to show a swollen, bandaged knee, the apparent result of arthritis.

Marcos is facing dozens of criminal charges and civil lawsuits over allegations that she and the late president salted away more than $5 billion. She is due back in court Friday to answer a motion from government lawyers who want her arrested for violating the travel rules.

"I won't flee," Marcos said, wiping away the tears rolling freely down on her cheeks. "I love my country. I will never leave my country."

Before she met Ferdinand, the glamorous young Imelda of the 1960s once managed to persuade the mayor of Manila to overturn the result of a beauty contest and declare her the winner.