British police anxious before Bush visit
( 2003-11-13 10:52) (Agencies)
Security worries are more serious for U.S. President Bush's upcoming trip to Britain than previous presidential visits, but some anti-war protesters may still be allowed to get close enough for Bush to see them, police said Wednesday.
Terror attacks around the world mean fears for the president's safety are greater than for his predecessors who visited London, said London police Deputy Assistant Commissioner Andy Trotter.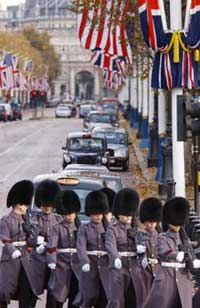 A squad of British Guardsmen march down The Mall, bedecked with British, and US flags, towards Buckingham Palace, London, Wednesday Nov. 12, 2003. [AP]

But Trotter emphasized that demonstrations against the Iraq war and other Bush policies will go ahead, saying police would not use security as an excuse to spare Bush the embarrassment of seeing those who disagree with him.

"He could quite easily come into contact with demonstrators," Trotter said, explaining that some pedestrians would be allowed to stand along roads Bush travels on. "What would be extremely inappropriate would be for a large march to meet the convoy."

Demonstrations against the Iraq war drew hundreds of thousands of people to central London earlier this year, and the Stop the War coalition said it hopes 60,000 people will join an anti-Bush march through the city on Nov. 20.

Many Britons bitterly oppose Bush's policies and his Nov. 18-21 state visit calls attention to Blair's close relationship with him just as the prime minister encourages the public to shift its attention to domestic concerns.

Trotter said police had not received any intelligence indicating a specific threat against Bush, but noted that London has been on a high security alert for months.

"These are real, real issues for us," he said. "This is an extremely high profile visit and we want to make sure that it goes off extremely well."

The tense world situation since the Sept. 11 attacks means safety fears are higher than during visits by former U.S. Presidents Reagan and Clinton, Trotter said.

"We must be very, very conscious of that. The world has changed since those visits," he said.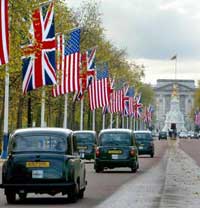 U.S. and British flags stretch along The Mall towards Buckingham Palace, central London, Nov. 12, 2003. The flags have been displayed in advance of U.S. President George W. Bush's State Visit to Britain next week. [Reuters]

He vehemently denied newspaper reports that police are bending to pressure from the White House or Blair's office to shield Bush from protesters.

"There's been no pressure and no influence whatsoever around the style of policing," he said. "It's our intention to facilitate lawful protests. ... There's no intention to spare anyone's embarrassment."

White House spokesman Scott McClellan said "people, obviously, have the right to express their views. That's the strength of a democratic system. And it's certainly their right to assemble and express their views in a peaceful way."

Trotter said about 5,000 officers would be on duty during the visit, with vacations canceled for all London police.

The Nov. 20 march, expected to be the biggest of the week, will not be allowed to go through the main government district of Whitehall or near Parliament. It is likely to conclude instead at nearby Trafalgar Square, said Trotter.

Britain's Foreign Secretary Jack Straw said people were entitled to demonstrate, but questioned why those who planned to march against Bush had not protested Saddam Hussein's regime.

"What bothers me is the fashionable anti-Americanism that's around," he told British Broadcasting Corp. radio.

"Many more people, I guess, will be demonstrating about the United States and the action which the United States has had to take since Sept. 11 than ever demonstrated against the brutal, vicious, horrible regime of Saddam Hussein."

Enormous American and British flags are already billowing along the Mall near Buckingham Palace where Bush and his wife, Laura, will be the guests of Queen Elizabeth II during their stay.