Plight of a migrant worker
( 2003-11-13 10:23) (Xinhua)
A rural migrant worker - Peng Hongping, 26, of Hubei Province - was followed by two Xinhua reporters for almost four months as he sought work, providing a glimpse into the life of rural migrant workers.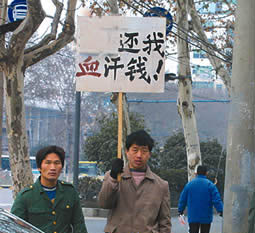 During the 115 days, Peng was employed in temporary jobs for only 45 days, with a net cash income of 415 yuan (US$50). Quite often, he had to sleep on the street and didn't have enough to eat.
A shabby and hungry Peng was first discovered by the reporters in early July in a job market in Wuhan, capital of Hubei Province. At that time, Peng had only 30 cents left in his pocket and had been without food for two days after being sacked by a construction boss and paid 200 yuan when 925 yuan was due after injuring his hand while working.
Peng's mother, in her 60s, is almost blind with cataracts and makes a living by collecting garbage in their hometown. His wife, after one year of marriage, abandoned him because he was poor.
"I fear neither hardship nor hard work, my only wish is to live a better-off life. But now, I'm ashamed of being like this," said Peng.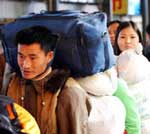 Later, Peng got a job mixing cement at a construction site but was fired for slowness after working one day without getting a cent.
In late August, lured by the bright promise of 1,000 yuan a month for a job in a marble plant in the Xinjiang Uygur Autonomous Region in the northwest, Peng went there and managed for a month in a remote village, working 12 hours a day, but was paid merely 300 yuan at the end.
Peng finally returned by evading a train ticket since what he got was not enough to cover his home-bound journey, which would cost 370 yuan.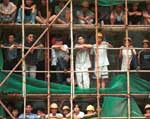 In October, Peng found a job washing woven plastic bags, which asked for five to six hours of work in the day and an extra eight to nine hours in the evening. He was paid 30 yuan for three days' work.
During the 115 days, Peng worked for 11 bosses, none of whom signed working contracts with him or kept their promises to him.
Peng is now scratching for a living by carrying goods in downtown Wuhan.
A series of policies and measures have been framed recently, demanding the signing of labor contracts and forbidding skimping workers' salaries and hurting the rights and interests of migrant workers.
The central government has also launched a plan to provide training to 60 millions of farmers over the next seven years to help with their employment. The target also includes extra classes for 200 million rural workers who already have jobs in the cities.