First toxic ship arrives in UK
( 2003-11-13 09:22) (CNN.com)
The first of 13 polluted U.S. ships due to be scrapped in Britain arrived on Wednesday, adding a noisy environmental row to the storm of protest surrounding next week's visit by U.S. President George W. Bush.
Environmental campaigners descended on the northern English port of Hartlepool, giving a foretaste of massive demonstrations planned for London when Bush visits from next Wednesday.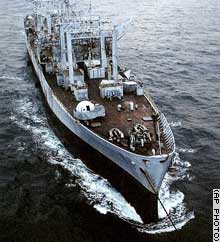 An unidentified old U.S. Navy vessel is towed in the English Channel on its way to Hartlepool, Britain.

"We don't want these ships in the UK," said Mike Childs, UK campaigns director for environmental pressure groups Friends of the Earth.

"America has the capacity to deal with its own waste and the moral obligation to do so," he told Reuters.

"This is a sorry mess created by the U.S. administration's determination to get rid of these boats as quickly as possible and UK regulators' failure to carry our the proper checks and assessments," he added. The decrepit former U.S. Navy oil tanker "Caloosahatchee" was the first to arrive of the so-called "Ghost Ships," a fleet of ancient vessels, some of which date back to World War Two and which are contaminated with asbestos and other toxic chemicals.

They are due be scrapped by a British firm under a contract worth ?0 million ($16.7 million).

Three more are already on their way, while another nine are still waiting in the United States for permission to sail.

Local campaigners have persuaded Britain's Environment Agency to withdraw permission for the scrapping, leaving the fate of the ships up in the air.

The four that have already left the United States have been allowed to dock while the demolition firm, Able UK, contests the case in court.