Russian tycoon may be held for two years
( 2003-11-13 09:15) (Agencies)
Jailed oil tycoon Mikhail Khodorkovsky could be held for up to two years pending an investigation, a senior prosecutor said Wednesday, but he added authorities hope to complete their criminal probe within two months.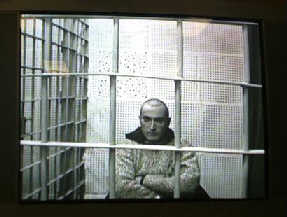 In this image taken from television, Russian oil tycoon Mikhail Khodorkovsky participates by video link from behind the bars of a cell in the Matrosskaya Tishina jail on Nov. 11, 2003 during a closed session in a Moscow court from TV screen. [AP]

A Moscow court turned down Khodorkovsky's request to be released from jail on Tuesday, rejecting his appeal to be freed on bail or on the strength of personal guarantees from supporters. The businessman has been jailed since Oct. 25 on charges including fraud and tax evasion.

He can now be held until Dec. 30, but prosecutors can seek an extension.

Deputy Prosecutor-General Vladimir Kolesnikov, quoted by the Interfax news agency, said the investigation should be completed quickly. But "If the scale of the work is very large, a person can be detained for 12 months. If the case is extraordinarily large-scale, detention can last up to two years."

The Russian tycoon's arrest came amid a four-month-old campaign by prosecutors against Russia's largest oil producer, Yukos. Critics say it is a Kremlin-backed bid to curb Khodorkovsky's financial and political clout and avenge his funding of opposition parties. Khodorkovsky resigned as head of Yukos last week.

Khodorkovsky's lawyers argued that he was neither a flight risk nor a threat to society, but Kolesnikov said prosecutors had good reasons for asking that Khodorkovsky be jailed. The reports did not include an explanation of the reasons, but some analysts say the tycoon could be a political liability to pro-Kremlin parties during the campaign for the Dec. 7 parliamentary election.

Khodorkovsky, 40, is one of a handful of so-called oligarchs who made fast fortunes in a wave of highly controversial state selloffs in the 1990s. President Vladimir Putin insists the Yukos cases are not politically motivated, casting them as part of a legitimate effort by law enforcement authorities to tackle the economic crime and corruption that have plagued post-Soviet Russia.

"We want (the rights of) Russian businessmen to be protected," the ITAR-Tass news agency quoted Kolesnikov as saying. "But against those who steal, we take the most decisive measures under Russia's criminal code."