Official: Taiwan pushed to brink of danger
( 2003-11-12 23:53) (China Daily)
Beijing is taking steps to crush any attempt to split the motherland.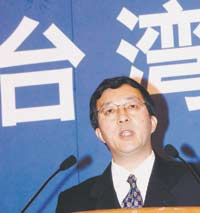 Li Weiyi, spokesman for the Taiwan Affairs Office of the State Council. [CNS]
The warning came Wednesday as Taiwan leader Chen Shui-bian has intensified efforts to promote the island's independence.
"Chen's perverse acts have not only aroused the indignation of all Chinese people, but also prompted us to prepare well to crush the conspiracy of Taiwan separatists," said Li Weiyi, a spokesman for the Taiwan Affairs Office of the State Council.
Making the stringent warning at a regular press conference, Li accused Chen of trying to cover up his pro-independence plot by cheating the Taiwanese public and manipulating international opinion.
Indeed, Chen "has been pushing the island closer and closer to the dangerous brink of Taiwan independence while disregarding the Taiwan compatriots' common aspirations for peace, stability and development," Li said.
He warned that Chen's separatist remarks and moves will ultimately drag Taiwan into a disaster, but did not elaborate on what measures Beijing might take to crack down on Chen's activities.
Yet it is widely believed his comments suggest that Beijing will continue its long-standing policy of safeguarding its sovereignty and territorial integrity by all means, including military action if it deems it necessary.
During his recent stopover in New York en route to Panama, Chen beat the drum hard for his plan for a new "constitution" and an islandwide referendum, which experts say is aimed at paving the way for formal independence.
Political analysts have noted Chen's recent more radical campaign advocating separatism is an effort to boost his chances of re-election in next year's "presidential'' elections.

Chen stopped in New York for two days and attended last week's centenary celebrations for the independence of Panama, where US Secretary of State Colin Powell shook his hand and chatted briefly with him at a luncheon.
"Chen Shui-bian's visit had a very obvious goal - he wants to split China, to sabotage Sino-US relations, to prepare for his second term and continue the administration of the Democratic Progressive Party (DPP) in Taiwan," said Li.
Powell is the highest-ranking US official known to have spoken with a Taiwanese leader since 1979, when Washington cut ties with the island and established official ties with Beijing.
In one of the key policy positions for his re-election bid, Chen asserted that Taiwan and the mainland are "one country on each side" of the Taiwan Straits.
The provocative definition of cross-Straits ties, which Chen first advocated in August of last year, goes against Beijing's one- China principle that both the mainland and Taiwan are parts of one China.
Chen has gone so far as to instigate his pro-independence DPP to put forward a draft law on the referendum, which makes it clear a future plebiscite can be held on any issue, including the island's independence.
Li said Chen's recent pro-independence moves have well demonstrated that he has failed to honour his earlier pledges not to include the concept of "state-to-state" relations in Taiwan's "constitution" or promote any referendum on independence to change the status quo of the island.
"The Taiwan authorities led by Chen have been maliciously making use of the referendum issue to challenge the one-China principle and split the motherland," the spokesman said.
Chen's promises not to push for Taiwan independence during his term have proven to be nothing but "an outrageous lie", he added.
At the press briefing, Li told reporters that Beijing stands ready to model future cross-Straits economic co-operation on the Closer Economic Partnership Arrangement (CEPA) between the mainland and Hong Kong.
"We are ready to make CEPA a role model for strengthening economic and trade ties across the Taiwan Straits," said Li.
However, Li stressed that Taipei's refusal to lift its decades-old ban on the three direct links across the Straits - trade, transport and postal services - is the main hurdle standing in the way of establishing such an economic pact.