Iraq council head calls for provisional government
( 2003-11-12 18:27) (Agencies)
The head of Iraq's U.S.-backed Governing Council called Wednesday for a provisional government to be installed swiftly to counter arguments that the country is under a malign American occupation.
"I think it is very reasonable and necessary to have a provisional government before having a constitution," Jalal Talabani, who holds the rotating presidency of the 25-member council, told Reuters in an interview.
"This will be a big blow to the terrorist claims that we are under occupation and that the Americans are ruling the country," said Talabani, leader of a pro-U.S. Kurdish faction.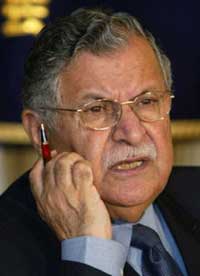 Jalal Talabani, the president of Iraq's U.S.-appointed Governing Council, called on Nov. 12, 2003, for a provisional government to be installed as soon as possible. Talabani, who holds the rotating presidency of the 25-member council, is shown speaking to reporters at the Foreign Correspondents' Club of Japan in Tokyo Aug. 15, 2003. [Reuters]

Claims that the United States was looting Iraq had been exposed as false by an $18 billion reconstruction aid package recently passed by the U.S. Congress, he added.

Talabani said he did not know if U.S. administrator Paul Bremer, summoned to Washington Monday for consultations, agreed with the idea of a provisional government.

Previously the United States has called for a constitution to be drafted and approved by referendum before elections leading to a fully sovereign Iraqi government.

But the idea of a provisional government to speed the transfer of power to Iraqis has gained ground recently as the United States seeks ways to deal with perpetual guerrilla attacks on its forces, mainly in central Iraq.

Talabani said he would like to see a provisional government "tomorrow" or as soon as discussions among council members and with the U.S.-led administration could be completed.

COUNCIL SESSION

The council was due to meet later Wednesday to discuss the constitutional issue. It was not immediately clear if the body, drawn from various Iraqi political, ethnic and religious groups, is united in favor of a provisional government.

Talabani said the occupying powers ruling Iraq since Saddam Hussein's removal in April now accepted it would take time to complete a constitution, conduct a census and hold elections.

But he voiced confidence that the Governing Council would submit a timetable by December 15 for the political transition, as requested by the United Nations Security Council.

Talabani said anti-Saddam parties, including his own Patriotic Union of Kurdistan, had wanted a provisional government to replace the Baathist regime immediately.

When Bremer set up the Governing Council, which he had first envisaged as an advisory body, they argued successfully for it to be given some real power, but Talabani said council members had seen that as a step forward, not the final word.

The Kurdish politician cited France and Italy after World War II, and Afghanistan recently, as precedents for interim governments taking power before a constitution was ready.

Asked if the Governing Council could be transformed into a provisional government, Talabani said this would depend on an agreement between the council and the U.S.-led administration.

The council has struggled to gain legitimacy and credibility among Iraq's 26 million people since it was created in July. One of its three women members was assassinated.

Early on, Iraq's top Shi'ite Muslim authority, Najaf-based Ayatollah Ali al-Sistani, ruled that only elected Iraqis could decide on a constitution for postwar Iraq.

Talabani, aware of Sistani's influence over Iraq's Shi'ite majority, described the cleric's edict as "reasonable" and suggested a national assembly to approve a draft constitution.

"The people will elect a council, an assembly. This assembly will decide the permanent constitution. But before that everyone has the right to say his word about the constitution. There will be a nationwide debate," he said.