Looted relics returned to Iraqi Museum
( 2003-11-12 13:49) (Agencies)
Several hundred ancient artifacts stolen from the Iraqi Museum during the wave of looting that hit Baghdad after the fall of Saddam Hussein's regime have been returned to the museum, officials said Tuesday.
Among the most important relics is a 4,300-year-old copper Bassetki Statue that shows the lower part of a man with cuneiform inscriptions commemorating the victories achieved by an Akkadian king.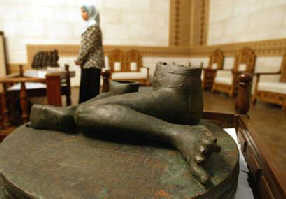 The Bassetki Statue, (around 2300 B.C.), the 27th and most sought-after item, is on display in Baghdad's Iraqi National Museum, Tuesday, Nov 11, 2003. [AP]

The other most important relic, dating to the reign of Assyrian King Shalmaneser III in the 9th century B.C., is a representation of a wood and bronze brazier with which Assyrian kings warmed themselves.

Both artifacts, hidden in a field and a house in the Iraqi capital, were recovered in two separate joint operations between the Iraqi police and the American military police.

"It is another bright day in the life of the Iraqi museum. We have two masterpieces not only of the Iraqi museum, but also masterpieces of the mankind. So, it is a great day today" said Donny George Youkhana, director of Iraq National Museum.

Moreover, a collection of about 820 pieces was handed over to the Iraqi museum by the Italian-Iraq Archaeology Institute.

According to Iraq's minister of culture, Mofeed Al-Jazaeri, those pieces, which consisted mainly of cylinder seals that come from different periods, were smuggled outside Iraq, but were bought and brought to the country by members of the Italian institute.

Thousands of relics were looted from the museum in the chaos after U.S. troops entered the Iraqi capital. The looting and destruction in April triggered deep criticism of U.S. forces both in Iraq and abroad. Museum curators and archaeologists worldwide said the United States should have protected the precious treasures, dating to the earliest days of settled human history.

Al-Jazaeri said that Iraqi authorities were able to recover only 4,000 of the 14,000 treasures thought to have been looted after the fall of Baghdad. He said that preliminary steps have been taken to form a 2,000-member force to protect Iraq archaeological sites from looting.

"We call upon our people to listen to the voice of their hearts and conscience and give back the missing artifacts which are an important part of the Mesopotamia civilization," he said.