Focus: Internet brings life revolution
( 2003-11-12 10:50) (China Daily)
In mid-October, Bian Jing and Zhao Bin stepped out of the glass-walled rooms to breathe in some fresh air. They had been confined for 100 consecutive hours during an online survival challenge held in Beijing and each is rewarded with one Qinghua Uni-splendor laptop, the tool that had connected them with the real world.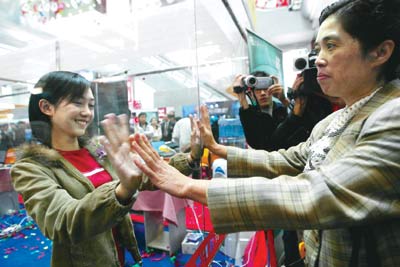 Bian Jing, a contestant in the online survival challenge, says goodbye to her mother as her 100-hour confinement in the glass room started on October 11. The event received a great deal of media publicity. [Xinhua]
The two contestants, one a college student and the other a network engineer, selected from among some 5,000 volunteers, also had a desk, a chair, a cot, a private lavatory and 3,000 yuan (US$360) in electronic currency at their disposal throughout their fishbowl-like confinement. Armed with their wireless notebooks, they were challenged to survive for five days via online subsistence and e-commerce.
The event received a great deal of media publicity, including the occasional real-time live broadcast, and ran fairly smoothly except for a nagging e-commerce problem.
"Generally speaking, it's very difficult to find food online. There is very little available by credit card," 20-year-old contestant Bian Jing wrote in her journal.
As Zeng Pengyu, a reporter with Beijing Youth Daily who took part in the experience as an observer, notes, some restaurants claiming to be pioneers in e-commerce only list a phone number on their websites and do not even take online orders. Eventually, each participant was given 500 yuan (US$60) in cash to pay for delivered meals.
Huang Junjie, general manager for Uni-splendor's laptop business, says the company sponsored the challenge to promote the idea of wireless living, but some netizens dismissed the stunt as old news.
"Now that more and more people have become used to working and shopping online, online survival is no longer a 'challenge'. It's already an integral part of life," remarks one.
Since its advent in China in 1994, the Internet has progressed by leaps and bounds in the Chinese mainland. As of this June, China boasted 68 million netizens, meaning that about one in 20 Chinese uses the Internet for at least one hour per week. And the number continues to rise.
In a survey conducted in early 2003 by the Centre for Studies in Social Development at the Chinese Academy of Social Sciences (CASS), of some 4,000 people across the country, 52 per cent likened the Internet to a huge library where they can source information and news. Another 46 per cent compared it to an amusement park offering games and diverse entertainment, while 44 per cent favoured its function as a means of filling interpersonal communication gaps.
"The Internet allows you to find out many things you wouldn't otherwise know," says Deng Feng, a netizen from Yima City, in central China's Henan Province.
Guo Liang, the research fellow who conducted the CASS programme to gauge the Internet's impact on Chinese society, could hardly suppress his excitement about the study and the Internet.
"The Internet is an open technology. Its openness is especially remarkable in China, a society relatively insulated culturally," he says.
Guo admits he was surprised to find so many people in small cities, either industrialized or under-developed, hooked up to the Internet.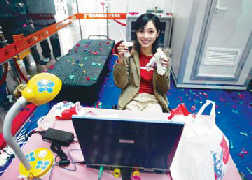 Bian Jing enjoys food delivered to her via online ordering but contestants found that few restaurants take online orders. [Xinhua]
"Unlike what we predicted at the outset, 41 per cent of Net-surfers who go online at local cyber cafes are not concerned about the cost, but the speed."
This demand for a faster connection with the rest of the world, at least virtually, coupled with the central government's determination to take advantage of the information revolution to push for electronic governance, helps contribute to the rapid growth of the Internet industry.
In January 1999, more than 40 state ministries and commissions jointly initiated the e-government project aimed at boosting government efficiency. Three years on, the number of websites established by governments at various levels has topped 10,000. Propelled by this progress, enterprises are also launching their own information systems.
"Customs, revenue collectors and even administrations of industry and commerce have started to receive declarations and applications online," says Li Yuxiao, director of the secretariat for the Internet Society of China.
In Beijing's Fengtai District, 57.9 per cent of the new revenue registrations in April at the peak of the severe acute respiratory syndrome (SARS) were processed through the Internet, surpassing registration through face-to-face visits for the first time.
Nonetheless, users still complain about the lack of interaction and resource sharing on most of the government websites, which make them little more than an ornament showcasing state-of-the-art information technology.
E-commerce is facing the same dilemma. Despite the ever-rising number of people cruising the information superhighway, only one million, about 1.5 per cent, shop online and they are mostly white-collar workers between 25 and 35.
"Most people are not used to shopping online. For them, seeing is believing," says Lei Jun, board chairman for joyo.com, dubbed "China's first brand for e-commerce". In Lei's view, "Goods delivery and payment systems are still hard nuts to crack, too."
Li Yuxiao of the two-year-old Internet Society of China points out that the key to e-governance and e-commerce lies not in the electronic part but in the "highly efficient operation" of commerce and governance. The society asks the government and Internet business practitioners to readjust and streamline their services to meet constituents' and customers' actual needs, instead of simply duplicating real-life complexities and procedures online.
Unlike western countries where a good information infrastructure has accelerated industrialization, in China, Li says, information technology must first change the way people think before the industry will be substantially motivated.
According to the CASS survey, 58 per cent of netizens are between the ages of 17 and 24, while those between 25 and 34 make up just 23 per cent.
"Only when most of the population, especially those over 35 who are economically independent and influential, consider the Internet indispensable to their daily lives, can the industry make an imprint on the national economy," says Li Yunxiao.
Although there are more than 200 million email users in China, less than 1 billion yuan (US$120 million) is collected for such services each year.
"We encourage Internet service providers (ISPs) to offer quality services for a fee. On an encouraging note, the stock values for some dot-com corporations listed on the Nasdaq are climbing this year. They are no longer providing free Internet services or building castles in the air. They've found growth points with traditional industries."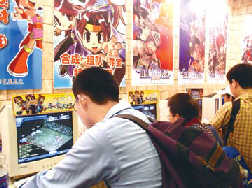 Online games are one of the major revenue sources for China's Internet economy. [newsphoto.com.cn]
Statistics from the China Internet Research Centre, a Shanghai-based institute dedicated to studying the Internet economy, indicates that China's still-fledgling Internet market is expected to cash in 7.45 billion yuan (US$900 million) by the end of this year. Of this, 2.77 billion yuan (US$330 million) can be attributed to messages downloaded online, while 2.55 billion yuan (US$300 million) will have been generated from online games. The rest will come from online shopping, Internet advertisements and paid mailboxes. The market is projected to hit to 20.27 billion yuan (US$2.4 billion) in 2005, nearly triple this year's estimate.
But the impending success of all this, warns Li Yuxiao, is closely linked to government input in exploring information resources.
"The government should guide and support software developers, Internet services and content providers in terms of funding for research and development, as well as tax relief, to bring about substantial benefits for the economy and society," Li says.
In addition, he stresses, the government must fully consider the pros and cons of the Internet on the national economy and social order before mapping out a complete set of strategies.
Likewise, laws concerning Internet management and regulation are also needed. As the CASS survey found, close to 90 per cent of those polled said the content of violent, pornographic and even run-of-the-mill junk emails needed to be controlled and screened.
"Currently, there is much reliance on self-discipline, as in the case of fighting junk email. There is nothing binding to force any sort of compliance, so such discipline on the part of practitioners won't last long. Concerns for privacy, Internet safety, information safety and the like have to be addressed by the law," says Li Yuxiao.
Whatever the concerns, the Internet is here to stay. As the CASS survey indicates, the longer people use the Net, the more positive their perception of it.
Sociologists also take note of its role in free expression. "Online opinions and comments are a growing wave of strength that no one should neglect. In a way, the Internet serves as a platform for freedom and enlightenment," says Min Dahong, a CASS researcher on digital media.
Hu Yong, CEO of the China Internet Institute, credited as the first Chinese to introduce the concept of a "digital society" to the country, says, "The Internet is not a luxury. It has brought changes to many aspects of life, like the economic structure and people's approaches to life, in a very subtle way."
He cites an old saying, comparing the Internet to an onion. "All the hype about the Internet is like the thin, outer peel. It's what's inside that brings tears to your eyes."
Virtual Figures
** As of June, China boasted 68 million netizens.
** 41 per cent of Net-surfers who go online at local cyber cafes are not concerned about the cost, but the speed.
** About one million, roughly 1.5 per cent of Internet users in China, shop online and are mostly white-collar workers between 25 and 35.
** China's Internet economy is expected to cash in 7.45 billion yuan (US$900 million) this year.
** By 2005, the market is projected to hit up to 20.27 billion yuan (US$2.4 billion).