HK's 'big white guy' stands out
( 2003-11-12 10:30) (CNN.com)
Fans of Randall van der Woning already know an article about him is going to appear on this Web site.
That's because they've read about it in his Web log, along with his many other adventures as a "big white guy" living in Hong Kong.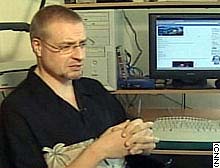 Hong Kong's 'big white guy' says two million visitors have hit his web log.

A Web log, or blog, is an online diary that is open for anyone to read.

With more than 4 million blogs out there in cyberspace, the diaries have gone mainstream making it difficult for a single blogger to rise above the noise.

But van der Woning is standing out in more ways than one. He says two million visitors have hit his web log, www.bigwhiteguy.com, since he started it five years ago.

Essentially, the Web log is a scrolling list of whatever comes to mind. In van der Woning's case, that is his observations -- often amusing -- of life in Hong Kong, a city he clearly loves.

For example: "It's very strange from a Western point of view to see someone order a pizza with thousand island dressing. Just the thought of it is rather disgusting. So I wanted to tell people about it," van de Woning tells CNN.

But he insists his site is not just another blog. He scours the city each day for content and even has his own merchandise such as T-shirts and coffee mugs.

The latest include hilariously poorly translated English subtitles from Hong Kong movies.

But the big white guy says he is not in it for the money.

The HK-based blogger often has amusing takes on life in the city.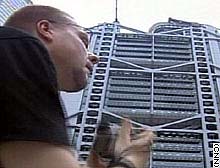 Hong Kong's 'big white guy' says two million visitors have hit his web log.

"Some people write for self therapy. It's like a diary or a journal except you're opening it up for the world to see, he says.

"I do my site because it entertains me and I like to share Hong Kong with the world -- or at least my perspective of it."

And he is not the only one with a story to tell.

There are over 4 million blogs on the net, more than half run by teenagers. Research group Perseus says the typical blog is written by a teenage girl who updates it about twice a month.

Sites such as Diaryland and Blogspot make it easy for anyone to launch one. Even AOL is hosting web logs, a sign that this trend has hit the big time.

There are predictions the net will be littered with 5 million blogs by the end of the year.

But unlike www.bigwhiteguy.com most of them will be little seen, if not abandoned. At least two thirds of the blogs out there today have not been updated in months.