Four in five Britons to have ID cards in a decade, minister says

( 2003-11-12 10:10) (Agencies)
Four in five Britons should have some kind of identity card by 2013, Britain's Home Secretary (Interior Minister) David Blunkett told the country's parliament, announcing a measure resisted by some fellow ministers.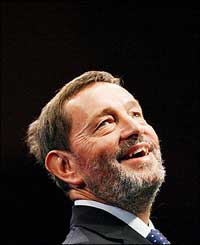 Britain's Home Secretary David Blunkett [AFP/File]

The introduction of a compulsory ID card would make it easier to combat terrorism, illegal immigration and welfare fraud, he said, adding that parliament would vote on the plan but not for some years.

Initially the government will set up a database where basic information about each citizen will be stored.

"It will not have details of religion, political beliefs, marital status or your health records," Blunkett said.

From 2007/8 onwards a new type of passport will record this kind of information, using biometric data such as fingerprints and eye-scanning. The scheme could be extended to driving licenses and Britons who held neither a passport nor a driving licence would be offered the option of an ID card.

"The Government expects that 80 per cent of the adult population would have an ID card by 2013," Blunkett said.

"I know some people believe there is a sinister motive behind the cards; that they will be part of a Big Brother state.

"This is wrong -- only basic information will be held on the ID card database -- such as your name, address, birthday and sex."

Blunkett said surveys showed 80 per cent of Britons backed the introduction of the card which he described as "not a luxury or a whim ... a necessity."

But at least two senior government ministers are reported to have misgivings about the card and human rights and civil liberties organisations have attacked the scheme as both costly and a threat to personal freedom.