Bremer summoned to US for talks on Iraq
( 2003-11-12 08:49) (Agencies)
Frustrated with the U.S.-picked Iraqi Governing Council, U.S. President Bush's national security advisers questioned the top American administrator in Iraq on Tuesday about how to break a political logjam in Baghdad and speed planning for the nation's political future.
L. Paul Bremer was summoned unexpectedly from Baghdad to a White House meeting with U.S. Secretary of State Colin Powell, Defense Secretary Donald Rumsfeld, National Security Adviser Condoleezza Rice and other key officials.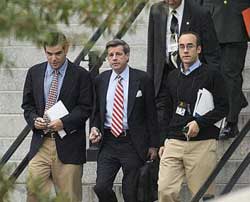 L. Paul Bremer, center, the top U.S. administrator in Iraq , walks from the Dwight D. Eisenhower Executive Office Building to the White House in Washington Nov.11, 2003. Bremer made a hastily arranged visit to Washington Tuesday amid growing dissatisfaction here about the performance of the Iraqi Governing Council. [AP]

There have been concerns about the performance of the governing council, a senior administration official said, particularly the lack of progress toward a Dec. 15 deadline to set a timetable for writing a new constitution and holding democratic elections. Bremer has expressed frustration to members of Congress that council officials are not working hard enough.

One idea being considered by the administration is to create an interim Iraqi leadership with authority to govern until a new constitution is in place and elections are held, officials said. It would be patterned after the model of Afghanistan, where the government of President Hamid Karzai was installed after a U.S.-led coalition ousted the hardline Taliban regime in late 2001. Elections are planned next June.

Bush, meanwhile, urged Americans to be patient in the face of rising casualties and growing criticism that the United States lacks a strategy for postwar Iraq.

"After decades of a dictator's sustained assault on Iraq's society and dignity and spirit, a Jeffersonian democracy will not spring up in a matter of months," the president said in a Veterans Day speech to the conservative Heritage Foundation.

"The work we are in is not easy, yet it is essential," Bush said. "The failure of democracy in Afghanistan and Iraq will condemn every advocate of freedom in those two countries to prison or death, and would extinguish the democratic hopes of millions in the Middle East."

With a re-election battle ahead, Bush faces a rising casualty toll in Iraq and criticism that he lacks a strategy for postwar Iraq. As of Monday, the U.S. death toll was 394.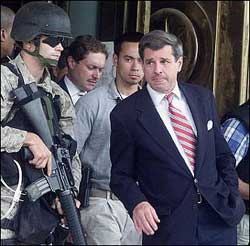 US overseer Paul Bremer in occupied Iraq visits Washington for 'routine meetings.' [AFP/File]

Bremer's hurried flight to Washington caught his staff by surprise and forced him to cancel a planned meeting with Poland's prime minister, Leszek Miller. Some U.S. officials believe that key members of the 25-member Iraqi council are stalling in hopes of winning concessions from American leaders under political pressure to turn over power to the Iraqis.

Administration officials expressed disappointment in the council's work but said Bush was not about to disband it.

"The notion that we are about to throw the council to the wolves is exaggerated," a senior administration official said, speaking on condition of anonymity. "But there is a need to put some energy into the political transition. It is true they are not as together as we had hoped."

The official, who is familiar with Iraq policy, said he expects Bush to stick with the basic outlines of his policy to achieve a transition to Iraqi authority.

The White House talks, like Bremer's return to Washington a few weeks earlier, were part of a process to energize and accelerate political, military and especially security arrangements in Iraq, officials said.

"The long-term security of Iraq will be assured by the Iraqis themselves," Bush said. He said 118,000 Iraqis were serving as police officers and in other security positions, and 35,000 Iraqi troops would be in the field by the end of next year.

"Increasingly the Iraqi people are assuming the responsibilities and the risks of protecting their own country," the president said. "And their willingness to accept these duties is one of the surest signs that the Iraqis want freedom and that the Iraqis are headed toward self-government.

"Under our strategy," Bush said, "increasing authority is being transferred to the Iraqi people. "The Iraqi Government Council has appointed ministers who are responsible for the day-to-day operations of the Iraqi government."

Bremer did not mention his travel plans when he met Sunday with a congressional delegation in Iraq, said the head of the group, Rep. Jim Kolbe, R-Ariz.

Kolbe said Bremer was frustrated by the work of the council and its slow progress toward drafting a constitution. He said Bremer believes council members do not devote enough time to the job and spend too much time traveling.

But Bremer "has not given up yet on the governing council. He is still prepared to work with it," Kolbe said.