Foreign retail giants to be regulated
( 2003-11-11 11:51) (China Daily)
Impending regulations governing foreign investment in the retail sector are expected to bring an end to the circumvention techniques some big international names have used to break into the Chinese market.
The Ministry of Commerce is now circulating the draft regulations among major foreign-funded retail companies for feedback. The Provisional Administrative Measures on Foreign-Invested Commercial Enterprises due at the end of this year will take effect on January 1, 2004, less than a year before China must fulfil its WTO commitment to fully open the sector to foreign investors by December 11 next year.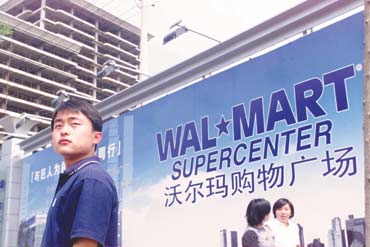 A man stands before an advertisement featuring a soon-to-be-opened foreign chain supermarket in Beijing. [newsphoto.com.cn]
The imminent measures will sort foreign retail investors into three categories: those that have never violated China's rules and regulations will form Class A; those with violations investigated by the central government will comprise Class B; and those that continue to violate such rules will make up Class C.
The ministry will decide which companies fall into which classification and then publicly announce the list.
Under the measures, B-rated foreign investors will not be able to establish new companies or stores in China for one year after their irregularities are checked, and they will be required to submit documents from government departments proving they have corrected their wrongdoings before receiving approval from the Ministry of Commerce for business expansion after the year-long probation expires.
C-rated investors, however, will lose all rights to invest in commercial companies or stores.
While the new measures will not raise the threshold to market access, they will require real and adequate cash deposits from investors.
Foreign investors that apply to set up both commercial enterprises and stores will be asked to submit their applications together with the land and building space rental contracts for their shops to the ministry.
To open a new store with floor space of more than 8,000 square metres, a foreign investor will have to inject 30 million yuan (US$3.63 million) in registered capital. For stores between 3,000 and 8,000 square metres, 5 million yuan (US$602,410) in capital is required. Those opening stores of fewer than 3,000 square metres must provide 30 per cent of the total necessary investment, but while they do not have to submit the land and building rental contracts to the ministry, each investor cannot open more than 300 such shops.
According to the new measures, foreign retail investors must acquire the land use rights for their businesses in China in accordance with the country's land administration regulations and through public bidding. The location of the new stores must also be in line with local urban commercial development blueprints or, in some cases, through public hearings.
The measures will also require that a foreign investor not be granted approval to open new shops if it already has more than three approved large shops that have not yet opened for business. For smaller shops under 3,000 square metres, investors will face the same restriction if more than two-thirds of their approved stores have not yet opened for business.
A set of related regulations on the location of big stores is also being drafted.
Retail network planning must be completed in all major cities before the end of this year, said Huang Hai, assistant minister of commerce, including municipalities, provincial capitals and cities directly under the economic plans laid out by the central government.

An advertisement for a Carrefour supermarket in Qingdao, Shandong Province. The new regulation to be released is expected to curb the unregulated expansion of foreign investment in the retail sector. [newsphoto.com.cn]
Otherwise, the random establishment of large retail stores could lead to over-competition, repeated construction and a waste of social resources, Huang said.
Initial statistics indicate that only 10 cities, including Beijing and Shanghai, have completed such network planning.
Huang said the central government, in line with international practices, will push for legislation on public hearings for the establishment of large stores.
He said the retail network must take into consideration a city's overall development, population distribution, consumption demand, transportation systems and environmental requirements.
Huang stressed that such planning must be subject to the rules of the market, instead of the conventional planning mechanism.
Experts expect the measures and regulations to significantly impact not only foreign and domestic retailers, but also a large number of suppliers, financial institutions and even real-estate developers.
Vexing irregularities
The measures will halt the Carrefour-style of expansion practised by foreign retailers in China during the last few years, say experts.
The French retail giant was able to go around central government rules by signing contracts with regional governments, forcing its way into areas beyond China's WTO commitment for the transitional period before 2005.
Before the central government realized what was happening, Carrefour stores had magically appeared throughout the country.
Many other foreign retailers copied Carrefour's development strategy, which recently picked up pace again as these investors are anxious to be well-entrenched by the time the potentially huge Chinese retail market opens to the outside world late next year.
"Some local governments ignored the retail-opening timetable in pursuit of 'political achievement' at the expense of national interests," said Professor Huang Guoxiong of China Renmin University.
According to China's WTO investment rules, foreign retailers could only establish joint ventures in the five special economic zones and six cities in the first year after the country entered the organization, with no more than four joint venture retailers each allowed in Beijing and Shanghai.
All provincial capitals were to be opened to foreign investors in the second year, while in the third year regional control and investment stake limitations were to be lifted and only those that had already been in business for more than a year would be allowed to sell books, newspapers and magazines.
Foreign-funded retailers would be able to deal in pharmaceuticals, pesticides and oil products in the fourth year and chemical fertilizer in the fifth year.
According to official statistics, of the more than 300 large foreign-funded retail enterprises in China, only some 70 were officially approved by the central government.
Another problem vexing the central government is that many of the "foreign-invested" retail stores have been established without foreign investors supplying any capital.
It is an open secret that goods suppliers, owners of the venues and even real-estate developers often advance the money for these stores, much of it in the form of loans from Chinese banks, on behalf of the foreign investors.
Some foreign investors, meanwhile, use the names of Chinese companies when opening retail stores to avoid having to apply for central government approval, Huang said, while others set up their Chinese outlets with very small Chinese partners who simply have no say in the management of the retail joint ventures.
Finally, some local governments have taken the liberty of reserving the best retail space at busy commercial centres for foreign investors, while others let investors choose their business locations without consideration for overall urban development plans.
The Ministry of Commerce estimated that China's retail sales would grow by 9.5 per cent next year.
MasterCard forecast in September that China would achieve retail sales growth of 6.8 per cent in the second half of this year, the highest in the Asia-Pacific region, to hit 1.9 trillion yuan (US$193.4 billion).
To keep that momentum going by further improving consumer confidence and income expectations, the ministry recently submitted a report to the central government suggesting increasing farmers' incomes, raising urban wages, strengthening social security payments, abolishing interest taxes on savings deposits and lifting the threshold of individual income taxes.
Mixed opinion on effect of fast growth of multinationals
Government officials and experts are divided over how fast-emerging foreign investment in the retail sector will affect domestic players.
"Domestic retail businesses are facing complete annihilation," warned Zhang Hongwei, vice-chairman of the All-China Federation of Industry and Commerce. "Major foreign retail giants have completed the layouts of their sales outlets through virtually illegal means and other investors are coming via the same routes."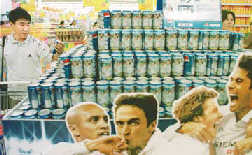 Opinion is still divided on how the overwheming expansion of foreign supermarkets in China will affect their domestic counterparts. [newsphoto.com.cn]
Beijing-based Economic Daily cites the lessons of Brazil, Mexico and Argentina, where foreign retailers established absolute domination of the local circulation sectors within 10 years after the countries opened their retail sectors.
Huang Hai, assistant minister of commerce, however, did not believe foreign-funded retail stores would force their Chinese counterparts out of the market.
China is such a vast country, he said, characterized by regional disparities and the urban-rural divide. It needs a variety of retail services, and foreign retailers can at most dominate some cities and regions.
For instance, foreign retailers are not expected to spread to rural areas and their outlets cannot target consumers of all income levels, Huang said. And they will face competition among themselves.
Besides, said Professor Li Fei of Tsinghua University, domestic retailers should not be overly pessimistic as they can still win the competition against their foreign rivals in specific areas, though perhaps not nationwide.
"All retail businesses in China, domestic- or foreign-funded, should be seen as Chinese companies," said Chen Wenling, a deputy department chief of the State Council Research Office, "as long as the their due taxes are paid."
The requirements imposed by the forthcoming measures should be applied to domestic players as well, experts say, to ensure fairness and transparency.
The important thing, according to Professor Huang, is that the government rules and regulations are in line with international norms.
During the transitional period, the protection of domestic retailers is accepted by the international community, while foreign laws on the planning and establishment of large retail stores can be borrowed, he said, but local governments must be commanded to act within their own powers.
Other experts said the rapidly growing Chinese market is capable of hosting many retail companies. The Ministry of Commerce estimated that China's retail sales would grow by 9.5 per cent next year.