Polish Holocaust hero gets highest order
( 2003-11-11 10:29) (Agencies)
Irena Sendler, a Polish woman credited with saving about 2,500 children from the Holocaust, was awarded Poland's highest order Monday.
President Aleksander Kwasniewski said he was honored to bestow the White Eagle Order on Sendler, 93, "who risked her own life to rescued the lives of other people during the most brutal of wars."
"Thanks to people like you we believe that good can triumph, that a fragile woman is capable of defeating the greatest tyrants," Kwasniewski said at a ceremony in a home for the elderly in Warsaw where Sendler has lived since last year.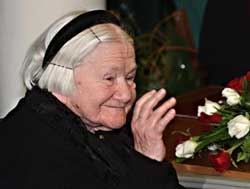 Holocaust hero Irena Sendler, 93, smiles during a ceremony at which she was awarded Poland's highest distinction, the Order of White Eagle in Warsaw Monday Nov. 10, 2003. [AP]

Sendler was head of the children's section in the Polish underground movement Zegota, which worked to rescue Jews during World War II. Anyone caught helping Jews in Nazi-occupied Poland risked being summarily shot along with family members.

Posing as a nurse, Sendler visited the Warsaw Ghetto and persuaded parents that their children had better chances of survival outside its walls. With 20 helpers, she smuggled the children out of the ghetto in 1942 and 1943 and placed them with Polish families.

She wrote children's names on slips of paper and buried them in jars in a neighbor's yard as a record to help locate the children's parents after the war. The Nazis arrested her in 1943, but she refused to reveal the names despite severe beatings.

Sendler, dressed in black and in a wheelchair, dedicated the medal to all who helped her "in those tragic years and who are no longer with us."

"Every Jewish child that I helped save is a justification for my life," she said.

Michal Glowinski, 69, who was saved along with his mother in 1943, said at Monday's ceremony that he was "extremely happy" about Sendler's award but "sad that it came so late."

Sendler sent him to an orphanage run by Catholic nuns in eastern Poland and placed his mother Felicja as a housekeeper with a teacher's family near Warsaw.

After World War II, Sendler worked as a social welfare clerk and director of vocational schools, continuing to help some of the children she rescued.

Sendler won a medal from Israel's Yad Vashem Holocaust Memorial in the 1960's, and was recently given an award from the U.S.-based American Center of Polish Culture.

In 2001, four students in Kansas wrote and performed a short play about Sendler's heroism, and visited her in Warsaw.