Flanders fields still yielding remains
( 2003-11-11 10:02) (Agencies)
As the 85th anniversary of the end of World War I approaches, investigators are still finding remains of soldiers who perished in Flanders fields ¡ª site of some of the war's most intense fighting.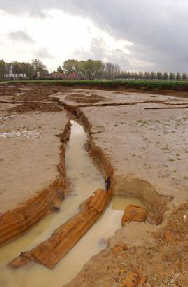 Seen are the excavated remains of World War I trenches found near a road construction site in Ypres, Belgium,Oct. 31, 2003. [AP]

They uncovered the remains of a British soldier Friday, the seventh serviceman found since excavations began a year ago on Pilkem Ridge, where 12,000 men died in one day in 1917 at the start of the third Battle of Ypres.

In the surrounding area of southwest Belgium, remains belonging to dozens of soldiers are found every year, mostly by farmers at plowing time.

"They call it the harvest of bones," said Peter Francis of the Commonwealth War Graves Commission, in Maidenhead, England.

German and allied armies fought in Flanders for over four years in some of the war's most intensive trench warfare. The slaughter was memorialized in an anguished poem by Canadian army surgeon John McCrae: "In Flanders fields the poppies blow between the crosses, row on row ..."

Ceremonies marking the anniversary of the Nov. 11, 1918, armistice that ended the fighting will be centered Tuesday in Ieper, then known as Ypres and pronounced "Wipers" by British soldiers.

Buglers from the city's fire brigade still play the British army's mournful "Last Post" every day at 8:00 p.m. beneath a stone arch bearing the names of 55,000 Commonwealth dead whose bodies were never found.

Marc Dewilde, the man heading the archaeological dig, said the remains discovered Friday may never be identified.

His team found only the boots and lower body bones of the slain soldier, who has been recognized as British from buttons attached to scraps of uniform.

Of the six others discovered over the past year, Dewilde said, Belgian and British investigators believe they have managed to identify one but have not revealed the name pending notification of family members.

An estimated 550,000 soldiers from Germany, the British Empire, France and Belgium died in the fighting around Ieper in three great pitched battles and months of static trench warfare from Oct. 1914 until Nov. 1918.