China sows seeds for diplomatic `harvest'
( 2003-11-10 22:49) (China Daily)
China and the Republic of Korea (ROK) hoped for a "good harvest'' yesterday as they discussed launching a new round of six-party talks on the stand-off over an alleged nuclear programme on the Korean Peninsula.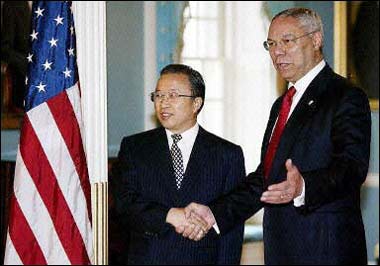 US Secretary of State Colin Powell (R) meets with China's Vice Foreign Minister Dai Bingguo (L) earlier this year. Dai arrived in Seoul as South Korea and China seek to agree on dates for six-party talks on the North Korean nuclear crisis.[Reuters]
Chinese Vice-Foreign Minister Dai Bingguo met ROK Foreign Minister Yoon Young-kwan in Seoul as part of Beijing's efforts to arrange the fresh round of talks on the issue.
The two began by chatting about a recent heavy snowfall in Beijing and sharing their belief that a heavy snow means a rich harvest the following year.
"We hope there will be a good harvest in the political field surrounding the nuclear issue, as well as in agriculture,'' Yoon said.
Dai also hoped for "a good harvest in efforts to bring a peaceful settlement to the nuclear issue on the Korean Peninsula next year.''
The first round of six-party talks, held in Beijing in August, brought together the Democratic People's Republic of Korea (DPRK), the United States, China, the ROK, Japan and Russia. That meeting ended without setting a date for a new round.
The DPRK has hinted recently that it will attend the next round of nuclear talks.
Also yesterday, Dai met Prime Minister Goh Kun and Presidential Advisor for National Security Affairs Ra Jong-il and Unification Minister Jeong Se-hyun.
They agreed that China and the ROK, along with other concerned parties, should co-operate closely to help peacefully overcome the impasse.
During the meetings, Dai exchanged views with ROK officials on China-ROK relations. They supported the consensus reached by leaders of the two countries earlier this year to enhance bilateral relations.
Dai arrived in Seoul on Sunday and is to leave for Japan tomorrow, continuing his push for the new round of six-party talks on the nuclear issue.
Dai's visit followed hot on the heels of another by Chinese Vice-Foreign Minister Wang Yi to the United States late last week. It also comes just one week after a visit to the DPRK by Chinese top legislator Wu Bangguo.
During Wu's visit, the DPRK agreed "in principle'' to return to six-party talks.
The current stand-off began in October 2002 when US officials said Pyongyang had privately admitted to pursuing a nuclear weapons programme.