Olympic venues get owners
( 2003-11-10 08:34) (China Daily)
The main venues for the Beijing 2008 Olympic Games, including the National Stadium, found their non-governmental owners on Saturday.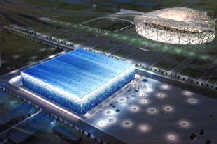 A model of the National Swimming Center, a major venue for the 2008 Beijing Olympic Games.[newsphoto.com.cn]
Around 17.4 billion yuan (US$2.1 billion) -- 85 per cent of 20.5-billion-yuan total budget (US$2.47 billion) will be mainly raised by their owners through non-government financing.
In a tendering signing ceremony, the Beijing Urban Construction Group consortium (BUCG), the successful bidder for the ownership tenders for the Olympic village and the National Gymnasium -- the venue for the gymnastic competitions during the 2008 Games, signed the deal with Beijing Olympic organizers and the municipal government.
The BUCG consortium includes the BUCG Group, the city's mega-construction company and foreign partners like Japan's Tange's Design Team.
Beijing North Star bidding consortium won the ownership tender for the International Convention Centre.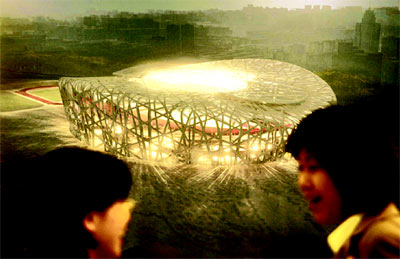 The design for the State Stadium, which resembles a giant bird's nest, has been chosen by the organizing committee based on fair competition. [newsphoto.com.cn]
The ownership tender of the 255-hectare Olympic Aquatic Centre of the Games, venues for the rowing and canoeing competitions in Shunyi District, in the northern suburbs of Beijing, goes to the Beijing Tianhong Group bidding consortium.
The Tianhong consortium also includes Beijing Construction Engineering Group and the Golden State Holding Group.
According to the tendering deal, the Tianhong consortium will form a project company which will be main builder of the centre. They will also obtain a concession to run the centre for 30 years after the 2008 Olympics.
"This is a good experiment for Beijing Municipality in the investment and financing system reform in Beijing,'' Liu Jingmin, vice-mayor of Beijing and vice-chairman of the Beijing Organizing Committee for the Games of the XXIX Olympiad said at the ceremony.
The Beijing organizers decided to raise funds from ownership tenders, to give full play to investment and post-Games utilization, according to sources with the Beijing Development Planning Commission, the organization responsible for the bidding.