Diplomats push for new 6-party talks
( 2003-11-10 08:03) (China Daily)
Vice-Foreign Minister Dai Bingguo, one of the top diplomats involved in defusing the nuclear standoff on the Korean Peninsula, kicked off visits to the Republic of Korea (ROK) and Japan Sunday to prepare for the second round of six-party talks.
Dai will stay in the ROK until Wednesday and Japan from Wednesday through Sunday. The visit followed hot on the heels of another diplomatic foray, Vice-Foreign Minister Wang Yi's visit to the United States late last week and just one week after a stop in the Democratic People's Republic of Korea (DPRK) by Chinese top legislator Wu Bangguo.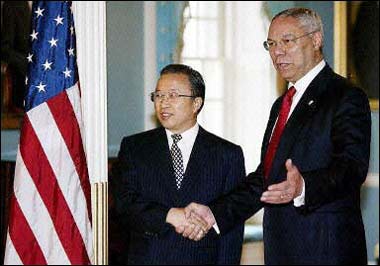 US Secretary of State Colin Powell (R) meets with China's Vice Foreign Minister Dai Bingguo (L) earlier this year. Dai arrived in Seoul as South Korea and China seek to agree on dates for six-party talks on the North Korean nuclear crisis.[Reuters]
Dai's visit is regarded as China's latest push for the six-party talks to continue among officials from the DPRK, the United States, China, ROK, Japan and Russia.
"China will continue to work with other parties to push for the next round of talks,'' Foreign Ministry spokeswoman Zhang Qiyue said last Tuesday.
In Washington, Wang Yi told reporters after his discussions with US Secretary of State Colin Powell on Friday that Beijing was working to set up a new dialogue among the parties.
"The preparations for a new round of talks in Beijing have started,'' Wang said after he met Powell.
After meeting the State Department officials on Thursday, Wang said there is a "good opportunity'' for the parties to move forward.
He stressed that all parties should try to seize the opportunity to try to narrow differences through consultations.
State Department officials said on Friday they were optimistic about chances for fresh talks on the issue.
China organized a first round of six-party talks in Beijing in August.
The current standoff began in October 2002 when US officials said Pyongyang privately admitted to pursuing a nuclear weapons programme.