Potala Palace being whitewashed for festive season
( 2003-11-08 16:27) (Xinhua)
Potala Palace, the residence of Dalai Lamas since the seventh century, is being whitewashed for God-Descending Day which falls on Nov. 20.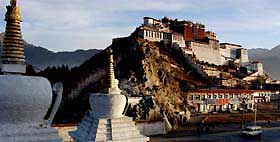 The whole project costs 170m yuan.

Wangduo, deputy section chief of Potala Palace Administration, explained that the whitewashing, which began on Oct. 29, or the fourth day of the ninth month on the traditional Tibetan calendar, was necessary as the outer walls of the palace became corroded during the rainy season this year.

"Though whitewashing is an annual event, the actual day to begin whitewashing each year is carefully chosen according to the traditional Tibetan calendar," said Wangduo.

According to Wangduo, the famous Red Palace, which contains the tomb stupas of generations of Dalai Lamas and various prayer halls, is painted with red soil and other red mineral-bearing stuff, but the paint for the white walls is made of a kind of locally produced mineral mixed with milk, rock candy and white sugar.

Wangduo said milk, rock candy and white sugar could help enhance the glutinous feature of the paint, while also helping remove the unpleasant smell of the paint.

More than 100 people, who are all devout religious believers, are hired to do the whitewashing which is expected to be finished in about 20 days.

Tradition dictates that other lamaseries and civilian houses in Lhasa, capital of Tibet Autonomous Region, can be whitewashed only after Potala is whitewashed. And the tradition is stilled strictly observed in the present day.

The imposing Potala Palace, situated in the northwestern corner of Lhasa, was first built under the rein of Tibetan King Songtsa Gambo in the seventh century, during the Tang Dynasty (618-907), and expanded during the 17th century. It features the cream of unique classical Tibetan architectural art and houses many ancient artifacts.

The lamasery was included on the World Heritage List of the United Nations Educational, Scientific and Cultural Organization ( UNESCO) in 1994. The central government allocated more than 330 million yuan (about 40 million US dollars) to renovate the Potala Palace and two other major lamaseries in Tibet in 2001. Of the total, 179.3 million yuan (about 21.6 million US dollars) was earmarked for renovating the Potala Palace.