City's 1st sex harassment case heard
( 2003-11-07 10:58) (english.peopledaily.com.cn)
The Beijing Haidian District People's Court yesterday dismissed the sexual harassment charge laid by 25-year-old woman Lei Man, marking the end of the first-ever sexual harassment lawsuit in the capital city.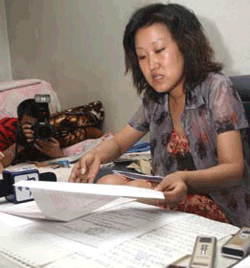 Lei Man receives interviews of news press. [File photo]

The court claimed that Lei failed to provide sufficient proof to support her charge. Furthermore, the plaintiff was diagnosed as suffering from paranoia by medical authorities, according to sources with the court.

Lei brought the action against 32-year-old Jiao Bin, her former immediate boss, in March, and requested a public apology and compensation of 50,000 yuan (US$6,040).

The court yesterday also rejected a counterclaim put forward by Jiao, accusing Lei of giving her obviously made-up story of the case to local news media and illegally violating the accused's privacy.

Jiao demanded a public apology and compensation for mental suffering of 5,000 yuan (US$604) in his counterclaim.

Lei could not be reached yesterday for comment. "I failed to make contact with Lei before the judgment," her lawyer Li Zaike told China Daily. Li said he won't know whether Lei wants to appeal to a higher court until he gets in touch with her.

The accused's lawyer Zhao Yongxuan said in an interview with China Daily that he feels sorry that the court did not support Jiao's counterclaim, saying that "Lei's smearing of Jiao's reputation is a chargeable offence under the law."

Zhao said he also needs further communication with Jiao to decide whether to appeal. The lawyer also emphasized that the negative impact that the lawsuit has brought to Jiao will persist over a long period of time.

It is reported that the lawsuit is the fourth one related to sexual harassment in China so far. In two of the cases, the female plaintiffs lost due to lack of evidence.

The only successful case was the one filed by a woman teacher in central China's Wuhan last month, who claimed she had been sexually harassed by her superior. The local court passed a verdict requiring the defendant to make a public apology.

But the court said the harassment did not have any serious effect on the accused and quashed the original judgment for compensation of 2,000 yuan (US$242) for the woman's psychological suffering.

With the rising number of sexual harassment suits, many people are calling for further legislation to clarify the law.

The All-China Women's Federation has submitted a motion to the Standing Committee of the National People's Congress, advising the addition of precise definitions and punishments for sexual harassment in the revisions of the Law on Ensuring Woman's Rights and Interests.