Arabs wary of Bush's 'democracy' message
( 2003-11-07 09:42) (Agencies)
Many people across the Middle East agreed with U.S. President Bush's call Thursday for greater democracy in the region, but they reacted coolly to backing a message from a U.S. leadership seen as siding unfairly with Israel and fomenting war in Iraq.
"Bush is reading the situation correctly ¡ª there is a great need for greater democratic reform across the Middle East," said Gehad Auda, a political scientist at Egypt's Helwan University.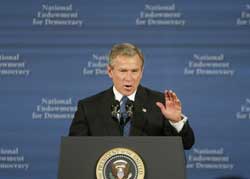 U.S. President Bush speaks Thursday, Nov. 6, 2003, at the 20th anniversary of the National Endowment for Democracy at the U.S. Chamber of Commerce in Washington. [AP]

"But nations like Egypt would not like the idea that they are being singled out (by Bush) to make broader reforms."

Since the Sept. 11 attacks, the U.S. government has been pressing for democratic reform in Middle Eastern states, most of which are ruled by authoritarian regimes and royal families.

In a speech televised across the Middle East, Bush acknowledged positive efforts by some states ¡ª in particular Bahrain, Kuwait and Oman ¡ª but called on U.S. allies and regional powerhouses Egypt and Saudi Arabia to take bigger strides toward reform and become models for democratic change.

Bush chastised Syria and Saddam Hussein's Iraq, saying they had promised their citizens national honor but left instead a legacy of torture and oppression. He criticized Iran and urged its ruling Islamic establishment to heed its people's desire for political freedom or "lose its last claim to legitimacy."

Bush also criticized Palestinian leaders, accusing them of blocking democratic reform and encouraging violence.

"They are the main obstacles to peace and to the success of the Palestinian people," he said.

Extreme poverty, poor education and a lack of rights for women were "not the failures of a culture or a religion ... (but) of economic and political doctrine," he said.

Throughout the Middle East, burgeoning reform movements have been making such calls for years ¡ª even decades.

There was no official reaction, and little response from the masses, since Bush's speech came just after dark when Muslims were breaking their daylight fast during the holy month of Ramadan.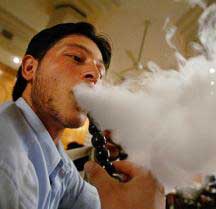 A Palestinian man smokes a water pipe known as sheesha as he listens to traditional folk music after breaking the Ramadan fast in Gaza City, in the Gaza Strip, Nov. 6, 2003. The Muslim world is celebrating the holy fasting month of Ramadan. [AP]

But shortly before his address, Arab League Secretary-General Amr Moussa told reporters in Cairo the "reason for the strong hatred of the United States is its absolute bias toward Israel."

Those who expressed reaction agreed with the mixed feelings of political analysts.

In the Jordanian capital, Amman, businessman Khalid Salim said: "I support completely President Bush's speech concerning democracy in the Middle East and hope that his words will be in effect soon."

But 18-year-old Jordanian worker Samer Hussein said angrily: "With the justification of democracy, Bush and the Americans plan to occupy Arab and Muslim lands. We tell him, we do not want his democracy."

To many other Arabs, taking advice from the United States is a bitter pill since most people in the Arab world opposed the U.S.-led war in Iraq and regard America as biased toward Israel in its conflict with the Palestinians.

"If we are looking at a genuine call for democracy it is only logical that it should apply to the Palestinians and (therefore) the Israeli occupation forces should be questioned on the treatment of the Palestinians," Jordanian analyst Labib Kamhawi said.

"We do support the call for democracy," he said, and then added in reference to Iraq: "But only if this call is to be applied equally to all states and not used as a pretext to change unfriendly regimes by force."

Kuwaiti political analyst Dr. Ahmed al-Baghdadi said most Arabs would welcome Bush's call for greater democracy, but said few people in the region actually understand what it means to be democratic.

"Building parliaments and holding elections every four or five years won't make a difference to the Middle East," al-Baghdadi told The Associated Press. "We've had a constitution here in Kuwait for 40 years, but I'm sure none of our parliamentarians know anything about it."

In Bahrain, one the few Middle Eastern states to have an elected legislature, political analyst Essa Amin welcomed Bush's speech as a "push in the right direction" to bring democracy to the region.

Syrian political analyst Haitham Kilani told the AP that Bush's government is "not qualified to lead a democratic trend in the world, particularly in the Middle East."

"How can we believe that the one who is biased in favor of Israel ... can bring acceptable democratic projects to the people of the region?" said another Syrian analyst, Imad Fawzi al-Shueibi.