Cold grips North China; flowers blossom in South
( 2003-11-06 22:59) (China Daily)
Rain and snow swept over North China yesterday after a cold front from Siberia sent temperatures plummeting.
The State Meteorological Observatory said the mercury will plunge by as much as 8 to 10 C across much of North China, with some regions experiencing drops of more than 10 C.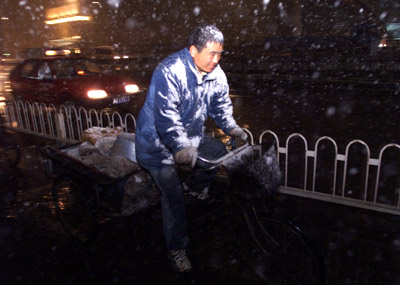 snowfall in Beijing
According to the Beijing meteorological observatory, the capital's temperature was expected to drop to -2 C overnight and reach a high today of around 6 C.
"It's largely normal weather,'' said Yang Guiming from the State Meteorological Observatory.
Cold fronts usually intensify after Chinese Mid-Autumn Festival, which is August 15 on the lunar Chinese calendar.
Many people had already started preparing for the cold at a large vegetable stall near Guozijian in northeast Beijing's Chaoyang District yesterday morning. Some local residents were busy storing Chinese cabbages and onions as in previous years, when winter always led to vegetable shortages.
The predicted snowfall has also stirred controversy over whether to let learner drivers on the slippery roads.
But elsewhere in China, there was no sign of cold weather. In Chongqing Municipality in Southwest China, the city's average temperature has remained at around 22 C since late October, according to a Xinhuanet report.
Expert Yang told China Daily that the high temperatures in Chongqing were to be expected because it is surrounded by mountains which block the cold air currents.
Many local residents have donned their summer clothing again to enjoy the sunshine.
In Wuhan, capital of Central China's Hubei Province, flowers which normally bloom in spring are blossoming again in autumn at the city's botanical gardens.
Local botanists said this phenomenon is due to a huge change in the city's temperatures recently.
The present hot weather after a period of chilly days, similar to a spring after winter, had altered the flowering season. It is part of the greenhouse effect, experts warned.