Wu Yi: Nation attracts overseas capital
( 2003-11-06 22:39) (China Daily)
China is seeking innovative ways to absorb more foreign investment, according to Vice-Premier Wu Yi.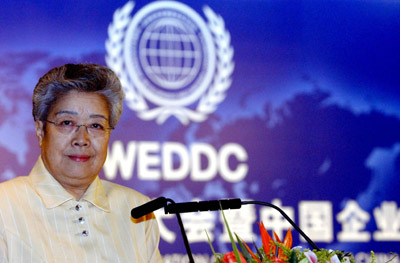 "We will also encourage foreign investors to participate in China's regional economic integration,'' Wu said when delivering a keynote speech at the opening ceremony of the two-day World Economic Development Declaration Conference (WEDDC).
The two-day WEDDC released the first worldwide declaration in the economic field, jointly authored by seven Nobel laureates and six Chinese economists. The declaration is expected to push the global economy in the long run by raising a set of general economic principles to adhere to.
Wu promised China will continue to push forward the opening of China's service sector.
The nation has already allowed the setup of wholly foreign-owned procurement centres in Shenzhen, Shanghai and Tianjin on a trial basis, which Wu said was an attempt to cater to the development of the logistics industry and the global purchasing needs of multinationals, while highlighting China's advantages in the processing industry.
Following this latest effort, China will keep the exploration of new investment areas as focus during its opening-up drive, Wu said.
China has already formulated policies and legal regulations to allow overseas investors to pour investment by means of acquisitions and other measures.
Overseas enterprises also have the opportunity to go public in China, participate in the restructuring of State-owned enterprises and become involved in the handling of non-performing assets.
Besides these areas, the new round of regional economic integration in China offers many opportunities for foreign investors, Wu said.
China will amend regulations to encourage foreign-funded companies in the east to invest in the central and western areas.
Foreign investors will benefit from the industrial upgrading in the Yangtze River Delta and Pearl River Delta, she said.
The reviving of the old industrial base in the northeastern part of China, especially the restructuring of State-owned enterprises, will also provide new space for foreign investors, she said.
China's plan to build a well-off society by 2020 will not only benefit Chinese people, but also spur the economic growth of neighbouring countries and play a positive role in global economic development, Wu said.
Under such a plan, China's GDP in 2020 will quadruple that of 2000, and is expected to reach US$4 trillion while China's total trade volume at that time will also quadruple, predicted to hit US$2 trillion.
Wu said that despite the negative impact of severe acute respiratory syndrome (SARS), China's national economy has still maintained a good development trend, according to Wu.
The goal of 7 per cent growth in China's GDP this year can be realistically accomplished, she said.
Statistics show that during the first three quarters of this year, China's GDP increased by 8.5 per cent year-on-year, financial income rose by 22.5 per cent, and the total trade volume surged by 36.2 per cent.
THE WORLD ECONOMIC DEVELOPMENT DECLARATION (ZHUHAI DECLARATION)

Peace and development are the common aspirations of people of all countries and are the main themes of today's world. Peace is the basis for development and development promotes peace. It is our common duty to promote world economic development and safeguard world peace with "equality, credibility, co-operation and development" as the basic criteria.
In order to promote the establishment of a new world economic era featuring equality, mutual benefit, interdependence and common development, and achieve the Millennium Development Goals as determined by the United Nations (UN) Millennium Summit, we, Nobel Prize laureates, economists, representatives of international organizations, leaders of enterprises from developing countries and developed countries and people of all walks of life, who have shown their concern and support for peace and development, jointly issue the World Economic Development Declaration (the Zhuhai Declaration):
1. Interdependence
Under market economy conditions, countries and economies of the world trade in goods and services with and invest in each other. Closed countries and economies cannot effectively participate in the world economy, thus compromising their economic growth. Therefore, all countries and economies must be open, interdependent and develop together, according to the principles laid down by the UN and the World Trade Organization.
2. Scientific and Technological Progress
Science and technology play an important role in economic development. Science and technology should be conducive to the establishment of a highly efficient and rational economic system. Progress in science and technology should be promoted and the achievements in this field be applied wisely and the advanced technical transfers from economically developed countries to developing countries should be promoted so as to accelerate the economic growth of all countries and enhance the livelihood of the people.
3. Efficient Use of Resources
All kinds of finite natural resources, including air, water, manpower, energy and raw materials, should be used according to the laws of science in an efficient way and global economic resources should be distributed in an optimum manner.
4.Sustainable Development
Man should coexist with nature in harmony so that population, resources and ambiance interact with each other in a virtuous circle, thus offering a favourable environment for steady economic growth and ensuring the sustainable economic development of the world.
5. Distribution
Increasing incomes and wealth should be fairly distributed among all countries and within each country. Elimination of poverty is the key step to reaching a fair distribution of income. Developing countries should carry out economic reform and enhance their national capability of creating wealth and developed countries should help developing countries in their economic construction with their practical measures of assistance and reduction or exemption of debts, so as to facilitate the elimination of poverty and the improvement of relations between the South and the North, thus serving the well-being of all people in the world, irrespective of their sex, race, culture and religion.
6. Competition
Competition is conducive to production, economic growth and the efficient use of limited resources. Credibility and legal systems are the basis and safeguard of competition. Nations and producers in the world should be encouraged to compete with each other in a fair and proper manner. In order to promote the development of the world economy, monopolies should be opposed as they could impede trade and equal opportunities.
7. Financing of Economic Development
A more fair and reasonable financial system for supporting world economic development must be set up to facilitate the flows of funds, and to increase the transparency of the flows of funds among the nations and markets, thus keeping a stable economic environment and allowing the achievements of investment and international trade to benefit all nations.
8. Economic Development and Education
Education and skill development should be promoted for all peoples of the world, no matter which country or region they come from and regardless of their race, sex and income level, to improve the population quality. Human resources should be vigorously developed to facilitate world economic development.
9. Human Factors in Economic Development
Man and the harmony between man and nature are important conditions for economic development. All economic activities should serve the well-being and the elimination of poverty of all people.Human beings are both producers and consumers. Producers should be encouraged to provide consumers worldwide with quality products and top-notch services to accomplish the long-term well-being of all people. This is an eternal principle that all our actions shall follow.
We are ready to work together with governments, enterprises and social strata, who are committed to world peace, human common progress and development, to build a glorious 21st century.