US to call up thousands of troops for Iraq duty
( 2003-11-06 09:29) (Agencies)
U.S. defense officials said on Wednesday the Pentagon would begin ordering thousands of fresh troops to prepare for service in Iraq, on a day guerrillas launched a series of attacks on U.S. troops on northern Iraq.
Three Iraqis were killed and at least 12 people -- including five American soldiers -- were wounded in the attacks in Mosul.
In Washington, defense officials said the Pentagon would issue call-up orders immediately for thousands of additional active-duty and reserve troops, including Marines, to prepare to serve in Iraq early next year.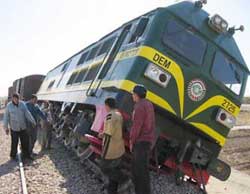 Iraqis converge on a train, derailed by saboteurs at dawn, during an effort to reopen the blocked railway line south of the town of Tikrit, November 5, 2003. [Reuters]

Marine Corps General Peter Pace, vice-chairman of the Joint Chiefs of Staff, stressed that the troops would be part of a 2004 Iraq rotation plan, and that the 132,000 American troops now there could decrease to just over 100,000 in May.

Pace also told the House of Representatives Armed Services Committee that the Bush administration had put off much of the planning for the aftermath of the Iraq war -- launched on March 20 -- out of concern such planning would bring on the conflict.

"We did not want to have planning for the post war make the war inevitable. We did not want to do anything that would prejudge or somehow preordain that there was definitely going to be a war," he said.

The United States, meanwhile, rejected Russian and U.N. proposals that international inspectors return to Iraq to look for weapons of mass destruction, none of which have so far been found.

WEAPONS CITED FOR WAR

President Bush and his closest ally in the war, British Prime Minister Tony Blair, cited the alleged existence of such weapons as the reason for war.

In Mosul, a hand grenade was thrown at two U.S. vehicles in the center of town on Wednesday afternoon. Hospital officials said the blast killed a boy aged 10 and wounded at least seven Iraqis. The U.S. military said one soldier was wounded.

Later, a rocket-propelled grenade (RPG) was fired at a U.S. convoy in southern Mosul. Witnesses said the grenade fell short of the convoy and killed two Iraqi men in a civilian car. The U.S. 101st Airborne Division said one soldier was wounded.

A separate RPG attack wounded two U.S. soldiers in the city, and another soldier was wounded in a roadside bomb attack, Sergeant Robert Woodward of the 101st Airborne told Reuters.

In a raid in the volatile town of Falluja, west of Baghdad, U.S. troops captured two former generals in Saddam Hussein's army, the American military said. It said the two were seized in a raid on Tuesday that also netted a large weapons cache.

"The two generals were suspected of being key financiers and organizers of anti-coalition fighters operating in and around the city of Falluja," the U.S. Army said in a statement.

At least 138 U.S. soldiers have been killed in action since Washington declared major combat over on May 1. During the war in March and April, 114 U.S. troops were killed in combat.