Career women give birth to dilemma
( 2003-11-06 09:27) (China Daily)
To be a mother or not to be, that is the question for many a career woman in China.
Yang Min is a 30-year-old lawyer at the peak of her career in Beijing. When she recently discovered her pregnancy, she was not happy.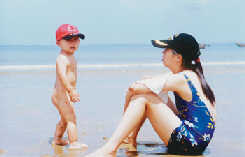 Some employers fail to respect female employees' maternal rights. [newsphoto.com.cn]
"The pregnancy is taking up so much of my time. It's harder than handling a big case," she said.
But her doctor strongly advised her to have the baby. The best age to have one is between 25 and 29, said Dr Wang Qi of the maternity department of the Capital Medical College Hospital. Once a woman is past 35, the chance of a smooth delivery gets much lower.
This is a piece of advice that doctors in big cities give out more often. According to Dr Liu Jun of Beida Hospital in Beijing, childbirths above the age of 30 account for 44 per cent of total cases at present, as compared with 22 per cent five years ago.
Most of these late childbirths involve white-collar women with enviable jobs. They are at the crossroads of career and family. On the one hand they strive for success, on the other hand their biological clock is ticking. Many find themselves in a dilemma.
A common view of many women: "I want to be a good wife and a good mother. But it's not easy to get to where I am in my occupation. I just don't know when or whether to have a baby."
The decision to carry a baby is made more difficult by some employers, who require that new staff not be pregnant within a certain amount of time, usually five years. Some companies assign quotas that limit pregnancies to a manageable number.
The cost for the employer is huge when a crucial staff member takes off several months on maternity leave, said a human resources administrator with a company in Shanghai. And there's no way a mother can perform up to par before the baby reaches three. It takes a lot of time to care for a new-born, and that's time which could have been spent at work.
Legal experts say that any contract that forbids pregnancy is invalid and firing employees on maternity leave is illegal. But violations abound.
As a result of the late-childbirth predicament, some couples have opted for a childless marriage.
"I don't believe in the traditional notion of having a kid to carry on the family name. Nowadays kids will be independent once they grow up. So why not just make the best of our time together when we are young?" said a couple in Chengdu, Sichuan Province, who are both college teachers.
Surveys show that in big cities as many as 25 per cent of young women think it is acceptable not to have a child.
"You may think it's selfish. But if I cannot spend enough time with my kid, that's not fair for him or her," said a 34-year-old female manager.