Man admits 48 murders in Green River case
( 2003-11-06 08:53) (Agencies)
Uttering the word "guilty" 48 times with chilling calm, Gary Leon Ridgway admitted Wednesday he is the Green River Killer and confessed to strangling four dozen women over two decades ! "so many women I have a hard time keeping them straight."
"Choking is what I did and I was pretty good at it," the 54-year-old former truck-factory employee said in papers submitted as part of a plea bargain.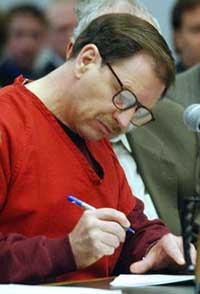 Gary Ridgway signs papers signifying that he is pleading guilty to 48 counts of aggravated first degree murder in the Green River killing cases, in front of Judge Richard A. Jones Wednesday, Nov. 5, 2003, in Seattle. The King County agreement, signed June 13, puts more murders on his record than any other serial killer in U.S. history. [AP]

Ridgway, a short figure with glasses, thinning hair and a sandy mustache, pleaded guilty to more murders than any other serial killer in U.S. history.

He struck a plea bargain that will spare him from execution for those killings and bring life in prison without parole for one of the most baffling and disturbing serial killer cases the nation has ever seen.

For a half-hour, he listened in court with an utter lack of expression as his own accounting of how he picked up each victim and where he dumped the body was read aloud. In the most matter-of-fact way, he confirmed the details, responding "yes" over and over in a clear but subdued voice, as victims' relatives wept quietly in the courtroom.

"I wanted to kill as many women as I thought were prostitutes as I possibly could," he said in a statement read by a prosecutor. He also said: "I killed so many women I have a hard time keeping them straight."

The statement opened an extraordinary window on the twisted mind of a serial killer. In it, Ridgway said he left some bodies in "clusters" and enjoyed driving by the sites afterward, thinking about what he had done. He said he sometimes stopped to have sex with the bodies.

"It was hard to sit there and see him not show any feeling and not show any remorse," said Kathy Mills, whose daughter Opal was 16 when she vanished in 1982. Opal's body was found in the Green River three days later.

Ridgway's lawyers said he was, in fact, sorry and will express that to the families at the sentencing, which will be held within six months. Defense attorney Tony Savage said Ridgway's emotions came "in private, in emotional ways, in tears and in words. ... He feels terrible remorse."
Gary Leon Ridgway [AP]

"The Green River nightmare is over," King County Prosecutor Norm Maleng said after the proceeding.

But Sheriff Dave Reichert ! one of the first investigators on the case as a young detective ! said that the investigation continues and that charges in more cases were possible. Under the plea bargain, Ridgway is not protected from the death penalty in other Washington counties or other states. He has not been charged elsewhere, but admitted dumping victims outside the county and in Oregon.

Other serial killers have bragged of murdering many dozens of victims, but Ridgway's plea agreement, signed June 13, puts more murders on his record than any other serial killer in U.S. history.

John Wayne Gacy, who preyed on men and boys in Chicago in the 1970s, was convicted of killing 33 people. Ted Bundy, whose killing started in Washington state, confessed to killing more than 30 women and girls but was convicted of murdering only three before he was executed.

At a news conference, Maleng said his first reaction to striking a deal that would take the death penalty off the table was no: "If any case screams out for the death penalty, this was it."

But he said he finally agreed to bring a resolution to dozens of unsolved Green River cases. Investigators had evidence to pursue charges in seven cases but had exhausted their leads in the others, and the victims' families ! including those whose loved ones had never even been found ! deserved answers, Maleng said.

Since signing off on the deal, Ridgway has worked with investigators to recover the remains of some victims.
Deanna Brewer (R) cries as she talks about her sister Shirley Sherrill, who was a victim of the Green River Killer, as her other sister Michelle Andrews looks on at left as they talk to reporters Wednesday, Nov. 5, 2003 in Seatac, Wash. [AP]

"Justice and mercy for the victims, the family and our community, and that is why we entered into this agreement," the prosecutor said.

The Green River Killer's murderous frenzy began in the Seattle area 1982, targeting mainly runaways and prostitutes. The first victims turned up in the Green River, giving the killer his name. Other bodies were found near ravines, airports and freeways.

The killing seemed to stop as suddenly as it started, with prosecutors believing the last victim had disappeared in 1984. But one killing Ridgway admitted to was in 1990, and another was in 1998.

In many cases, the killer had sex with his victim and then strangled her.

Ridgway said in his statement that he killed all the women in King County, mostly near his home or in his truck not far from where he had picked them up.

"In most cases, when I killed these women, I did not know their names," Ridgway said in the statement. "Most of the time I killed them the first time I met them, and I do not have a good memory of their faces."

He said he preyed on prostitutes "because I thought I could kill as many of them as I wanted without getting caught."

"I picked prostitutes as my victims because I hate most prostitutes and I did not want to pay them for sex," he said. "I also picked prostitutes as victims because they were easy to pick up without being noticed. I knew they would not be reported missing right away and might never be reported missing."

He stripped the victims of their clothes and stole their jewelry, leaving some of it in the women's bathroom at the plant where he worked as a truck painter. He said he got a thrill from thinking a co-worker might find and wear the items.

Ridgway, who was from the Seattle suburb of Auburn, was arrested in 2001 while leaving work. Prosecutors said advances in DNA technology let them match a saliva sample taken from Ridgway in 1987 with DNA samples taken from three early victims. He was also connected to some of the victims by microscopic particles of paint found on the women; the paint had come from his workplace.

Ridgway had been a suspect as early as 1984, when the boyfriend of victim Marie Malvar reported that he last saw her getting into a pickup truck identified as Ridgway's.

But Ridgway told police he did not know Malvar. Later that year, Ridgway contacted the King County sheriff's Green River task force ! ostensibly to offer information ! and passed a polygraph test.