Educating China's "little emperors"
( 2003-11-05 10:17) (Agencies)
The first thing five-year-old Shi Youxun does when he gets home from kindergarten every afternoon is switch on the computer. But he doesn't just sit there playing games. Instead, he chooses from dozens of programs that teach him about science, drill him on spelling, or test his math skills. And when Youxun isn't navigating with the mouse, he's busy memorizing Chinese poetry or practicing his English. "We started him on the alphabet when he was one or two years old," boasts his grandfather.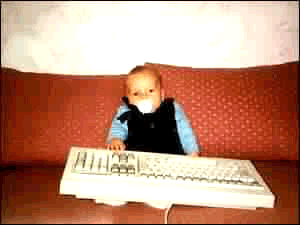 Shi Guojun, a retired Shanghai aviation worker with whom the boy lives during the week so his parents can work. "We want him to pick up two or three foreign languages, and then in the future we can let him focus on music and art."
Shi Youxun is a typical product of China's new urban middle class. With four grandparents and two parents to care for him -- Youxun is an only child -- he is a member of what is known as a "one-mouth, six-pocket" family, a result of China's one-child policy initiated 24 years ago. The first group of single children, especially the boys, became known as "little emperors" for the attention and luxuries that were showered on them.
In China's increasingly competitive society, parents these days are more concerned with their child's success in later life and are desperate to give Junior an early edge. "Today's moms and dads are looking for ways to get their kids ahead," says Christopher Mumford, chief operating officer of Beijing-based BabyCare Ltd., which sells nutritional products aimed at infants and pregnant women. "They are looking to supplement a kid's education starting from Day Zero."
KIDDIE CASH
That's creating opportunities for companies peddling everything from health supplements to interactive English-language teaching software aimed at kids.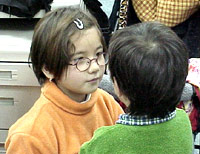 Although no one knows exactly how big this market is, foreign companies are keen to sell to a potential customer base that grows by 22 million newborns every year.
True, the majority of those babies are in the impoverished countryside, but what the cities lack in fecundity they more than make up for in purchasing power. "Some parents are spending US$10,000 per year for kindergarten," marvels Dulce Lim, head of Asia-Pacific publishing at The Walt Disney Co. in Hong Kong. "The market has really evolved."
Disney started out in China in 1994 with Mandarin versions of Mickey Mouse and Donald Duck comic books. A year later, it introduced children's books. Today, with more than 10 million comics and 2.7 million books sold, it's moving full speed into educational products.
Magic English, a US$225 Disney package that includes workbooks, flash cards, and 26 videodisks, has been "phenomenally successful" since it was introduced two years ago, Lim says. This summer, Disney launched interactive educational CD-ROMs featuring the likes of Winnie the Pooh and 101 Dalmations' Cruella DeVille. In April, Disney plans to start selling Baby Einstein, a series of videos that bombard infants and toddlers with images and classical music that supposedly make them more receptive to learning later on. Next year, Lim says, Disney China will license its characters to Emeryville [Calif.]-based LeapFrog Enterprises Inc. for use in interactive talking books that spell a word aloud when a child highlights it with a stylus.
Disney isn't the only company looking to combine education with computer technology in China.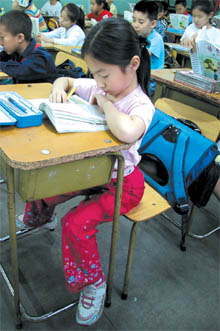 This year, Hong Kong-based VTech Holdings Ltd. started selling 16 electronic-learning products -- including the Bright Buddies laptop for teaching preschoolers music, English, and math, and the Girl Fun PC, a purse-shaped notebook computer.
Time Warner Inc. is testing the waters in Shanghai with an interactive language course called English Time. The 200-lesson, 40-CD set takes as long as four years for a child to complete. After successful debuts in Taiwan and Hong Kong, Time Warner is expecting strong sales on the mainland -- despite the US$3,300 price tag. "Surprisingly, in Shanghai people will pay that kind of money," says Trevor E. Lunn, Time Life International's managing director for Asia. "People underestimate the purchasing power of the Chinese."
Others are taking a more grass-roots approach. BabyCare sells its vitamins and supplements to young mothers who attend direct-sales sessions. Key to the company's message is the role of prenatal and infant nutrition in a child's ability to learn.
"I wasn't healthy during my pregnancy and was lacking parenting information," says 24-year-old Wei Yen. She learned the importance of nutrition the hard way: Her son, now two years old, suffered from a series of illnesses until Wei enrolled in a three-day BabyCare course. There she learned, among other things, that putting sugar in her baby's formula -- something her mother insisted she do -- was nutritional folly. Now her son is healthy enough to attend day care, and Wei makes about US$400 per month peddling BabyCare products.
The selling efforts of Wei and 5,000 others like her are paying off for BabyCare. The company, whose investors include the Templeton Private Equity fund, expects sales to hit US$10 million this year and US$20 million in 2004.
One potentially lucrative set of products that has been slow to take off is educational toys -- even though many of those that American kids play with are made in China's Pearl River Delta.
Chinese parents don't regard toys as anything, it seems, more than a means to amuse kids. Lane Nemeth, founder of Discovery Toys in Livermore, Calif., is challenging that notion. So her company is selling items such as three-dimensional puzzles and plastic measuring cups that teach toddlers simple math through volumes.
"There's a push in China toward math and science," says Nemeth. Meanwhile, mighty Mattel Inc., which has been selling its Barbie dolls and Hot Wheels cars in China since 1999, still hasn't introduced its Fisher-Price line of preschool toys on the mainland. In China, it's still "Day One, Page One," says Executive Vice-President Bryan G. Stockton.
CREATIVITY 101
The marketing opportunities haven't been lost on Hong Kong publisher Tom. Last year the company launched a mainland version of Mom Baby Magazine, which provides tips on pregnancy and child care from doctors and teachers.
"Parents only have one child, and they are very concerned, so this field is really growing," says Lisa Wu, chairman of Nong Nong Intermedia Group, the Tom subsidiary that publishes the magazine. With a circulation of 50,000, it isn't yet profitable, though it has attracted a blue-chip roster of advertisers including Disney, Johnson& Johnson, and Nestle.
The reluctance of parents to focus on a child's artistic side makes it hard for companies that try to go beyond the three R's. Hong Kong-based Kids' Gallery has opened a Beijing franchise offering after-school classes in arts and crafts.
But only 30 of the 100 students enrolled come from Chinese mainland families -- mainly those whose parents have traveled or lived abroad. The other 70 students are children of expatriates. "Creativity for Asian kids is seriously underdeveloped. Education is all about memorizing, rote learning, and passing exams," says Joanna Hotung, founder of Kids' Gallery. Even that emphasis, however, should keep companies that help Chinese kids learn plenty busy in years to come.