Top ministers sacked in Sri Lanka
( 2003-11-04 17:27) (CNN)
Sri Lanka's president has sacked three key ministers, throwing the stability of the nation's government into question.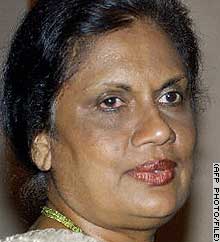 Kumaratunga enjoys wide executive powers.

President Chandrika Kumaratunga sacked the defense, interior and media ministers and fired other top officials, sources from her office said.

No immediate reason was given for Tuesday's cabinet shakeup in the south Asian nation, but analysts say the dismissals could throw the country into a constitutional crisis.

That could prove crucial as Colombo tackles the latest chapter in its long-running battle against the Liberation Tamil Tigers of Eelam (LTTE) rebels.

Just days ago, the rebels submitted a proposal for an interim administration in the country's northeast.

But Kumaratunga rejected that and has now fired the ministers who've been spearheading the fragile peace process.

For the past two decades, the Tigers have been fighting for a Tamil homeland.

More than 65,000 people have died and hundreds of thousands more have been maimed and injured, many of them civilians caught in the middle.