Musharraf says Kashmir problem cannot be sidelined
( 2003-11-04 14:09) (Agencies)
Visiting Pakistani President Pervez Musharraf said in Beijing Tuesday Pakistan wants peace with India but the issue of disputed Kashmir cannot be pushed aside.
"We want to develop peaceful relations with India. We want to have a composite dialogue with them, but Kashmir cannot be allowed to be sidelined," Musharraf said in a speech to Peking University students.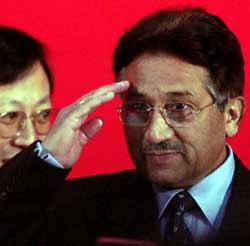 Pakistan's President Gen. Pervez Musharraf, right, salutes as an audience welcomes him with a standing ovation prior to his speech at Peking University in Beijing, China, Nov.4, 2003. [AP]

"We want to deal with India on the basis of sovereign equality. We cannot be coerced and we will guard our honor and dignity very jealously."

India and Pakistan have fought three wars since independence from Britain in 1947, two of them over the Himalayan region of Kashmir, and nearly went to war again last year over the disputed area.

Ties have warmed slightly since Indian Prime Minister Atal Behari Vajpayee called for talks in April. The two countries have unveiled a series of largely symbolic measures, including restaffing diplomatic missions and easing curbs on travel.

But India says dialogue is not possible until the end of "cross-border terrorism," which it accuses Pakistan of backing. Pakistan says it only gives political support to what it calls a legitimate freedom struggle by the mostly Muslim Kashmiri people.

Musharraf said Pakistan had been "making overtures to India to start the process of dialogue and move forward to a resolution of Kashmir."

"Unfortunately we feel that there is a degree of lack of sincerity on the Indian side," he said in answer to a question from a student.

EXPLOSIVE DISPUTES

Musharraf's speech focused on the root causes of terrorism and extremism and warned of a growing rift in understanding between the Muslim world and the West.

Kashmir and the dispute between Israel and the Palestinians remained dangerous, he said.

"The long-standing conflicts and disputes, in particular Palestine and Kashmir, remain potentially explosive," he said. "These disputes must be resolved on the basis of respect for the wishes of the people involved."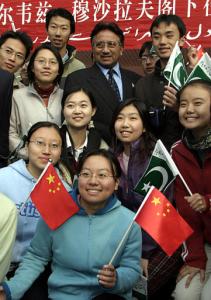 Pakistan's President Gen. Pervez Musharraf, center, poses for a picture with Peking University students Nov.4, 2003. [AP]

He said that, since the end of the Cold War, the West had increasingly viewed Islam as a religion of extremism and militancy and the Muslim world had increasingly seen itself as being targeted.

"These misperceptions must be rectified because both are wrong," Musharraf said.

He said that at the root of extremism and terrorism were hopelessness, powerlessness, desperation, injustice, poverty and lack of education, and proposed a strategy of "enlightened moderation" to address the problem.

"Operations against al Qaeda and the Taliban, Hamas and Hezbollah are all of short-term tactical value. Long-term strategy lies in addressing the root causes of terrorism," he said.

The Muslim world must "reject extremism and opt for socio-economic emancipation," he said. The rest of the world must help resolve political disputes justly.

Monday, Musharraf met President Hu Jintao during his first trip to Beijing since Hu took office as head of state in March.

Musharraf was also scheduled to meet Premier Wen Jiabao and other senior leaders.