Stable yuan exchange rate supported
( 2003-11-04 00:32) (China Daily)
China should keep its currency stable, both "Mr Yen'' and "the Father of Euro'' said yesterday at the Boao Forum for Asian.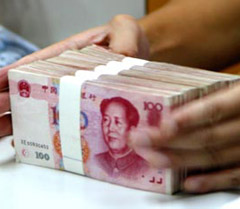 The Chinese currency, the renminbi or yuan, should not be revalued at the moment, said Japan's former vice-finance minister Eisuke Sakakibara -- once known as "Mr Yen'' for his ability to influence markets.
"A floating yuan may lead to a disastrous result in Asia, even in the world,'' Sakakibara said at the forum's panel session focusing on financial situation and monetary policy.
According to him, 70 per cent of Japanese firms believe that the yuan should remain stable, since renminbi appreciation will do harm to them.
"So do about 50 to 60 per cent of US companies, I believe,'' Sakakibara said.
Now, the global economic centre is shifting from the West to the East, therefore, the Asian countries, especially the two large ones in the region -- Japan and China -- should co-operate.
"Mr Yen'' expressed his regret for the Japanese Government's insisting on revaluation of the yuan.
He said: "Other Asian countries should help China release the pressure of yuan's revaluation China is undertaking.''
China has already been aware of the importance of the opening of its foreign exchange rate regime, but it takes time, he said.
Robert Mundell, a Nobel laureate and also honoured as "the Father of the euro,'' also said: "A country's monetary policy is relative with its economic reality.''
He added that China should float its currency only when sound financial and banking mechanisms are established.
China has kept its currency fixed with the US dollar since 1995, therefore today's words like China is manipulating its currency is strange.
Mundell outlines problems which will be caused in China if the yuan appreciates by 40 per cent.
"It will cut economic growth to 5 per cent or even lower, and aggravate the country's heavy burden of non-performing loans,'' he said.
Deflation is likely to appear and the foreign direct investment in China will be drastically cut.
And it will lead to a weak yuan and subsequent depreciation, Mundell said.
Stephen S. Roach, chief economist of Morgan Stanley, also shared similar views with the above mentioned two economists.
It would be "a serious mistake'' to ask China to revalue its currency, Roach said at a luncheon speech delivered at the forum in the previous day.
He pointed out that dismantling the renminbi peg would destabilize the very supply chain that had become so integral to new globalized production models and exert serious negative impact on Japan, the United States and Europe, which had led the rush to Chinese outsourcing.
"By putting pressure on China to change its currency regime, the industrial world ran the risk of squandering the fruits of its own cost-cutting efforts,'' said Roach.