New satellite blasts into orbit
( 2003-11-04 00:08) (China Daily)
China yesterday launched a recoverable experimental science satellite into a preset orbit, atop a Long March 2D carrier rocket.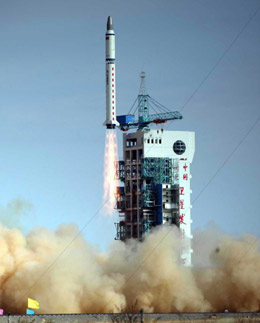 Space officials said the China-made satellite was launched at 3:20 pm from a newly built launch tower at Jiuquan Satellite Launch Centre in Gansu Province, Northwest China.
The officials said the satellite would remain in orbit for 18 days before returning to Earth.
Reports from Xi'an Satellite Monitor and Control Centre say the satellite is orbiting as scheduled and its instruments are functioning normally.
It is the 18th recoverable satellite developed by China, and is technically much more advanced than the previous ones in terms of its performance.
The satellite is mainly for scientific research, land surveying, mapping and other scientific experiments, said space experts.
The data China gathers from the satellite will help promote the country's scientific and technological, economic and social development.
With a liftoff mass of 251 tons, the launch vehicle, 40.6 metres in length, was developed by the Shanghai Academy of Space Technology with China Aerospace Science and Technology Corp.
The launch is the 73rd since 1970 by the country's Long March carrier rockets, and the 31st consecutive successful launch since October 1996.
Space experts said the success rate of Long March rockets is 91 per cent.
Yesterday's launch came less than a month after China's first manned space flight on October 15-16, and the October 21 launch of an earth resources satellite developed in co-operation with Brazil and a smaller satellite.
Space experts said the number of launches in such short period is unprecedented in China's history, indicating the country' s progress in launch capability and development of launch vehicle and spacecraft.
Yesterday's successful launch also underlined the reliability of the world's first satellite testing and launch tower with a structure of cement reinforced by steel bars, space experts said.
The tower, 91 metres high, replaces the commonly-used steel structure. Located at Jiuquan Satellite Launch Centre in Gansu Province, Northwest China, the tower looks like a high-rise building and is used for assembling, testing and launching satellites and rockets, and injecting propellants.
The building contains more than 40 testing workshops and closed rooms, providing all-weather pre-launch testing in convenient and comfortable conditions for engineers and technicians.
Compared with the popular steel-structured launch tower at home and abroad, the new tower is cost-effective.
Experts say it represents the country's first versatile launch facility capable of testing and launching different models of satellites.
Previously, China had to build separate test, launch and control systems for different models of satellite.